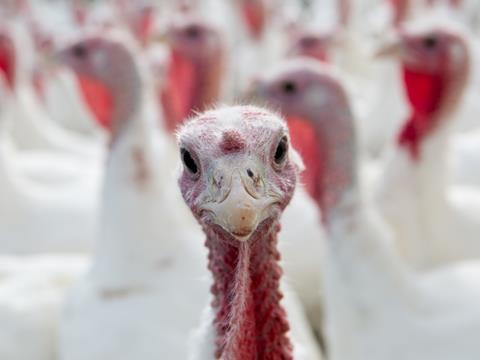 Poultry producers have been hit hard by rising costs in the wake of the Brexit vote, but this year's Christmas turkeys should avoid the brunt of post-referendum inflation - in the mults at least.

Wholesale fresh turkey prices are slightly up on last year, with the average November price per kg up 0.7% compared with 2015 levels to £3.07, and December prices set to rise slightly further due to Christmas [Mintec].

But the sector has avoided the main headwinds caused by the Brexit vote, says British Turkey Federation chairman Paul Kelly, with most supply deals with the big retailers signed in February, March and April "at a time when feed and general commodity prices were still low".

This year's crop has benefited from a mild autumn, says Kelly, who is also MD of supplier Kelly Turkeys. "They have grown well and are looking good," he adds. "More and more producers are now growing their birds to an older age as well, which improves the eating quality."

And the sector should be unaffected by this week's Defra bird flu warning, as more than two-thirds of Christmas turkeys have already been slaughtered.

Retail prices in the mults are broadly similar or slightly lower than last year, Kelly says. However, prices through independent butchers could be up by 2% to 3% as suppliers generally bought their feed on a shorter-term basis after the Brexit vote and will have to pass on the subsequent increase in input costs. "We'll definitely see a Brexit effect on prices next year," he adds. "If sterling stays where it is and commodity prices continue to rise there will be a substantial increase in wholesale prices."

With 84% market penetration at Christmas, turkey is still "the top choice for consumers", says a spokesman for Bernard Matthews, which expects a continued increase in the preference towards turkey crowns and added-value joints.