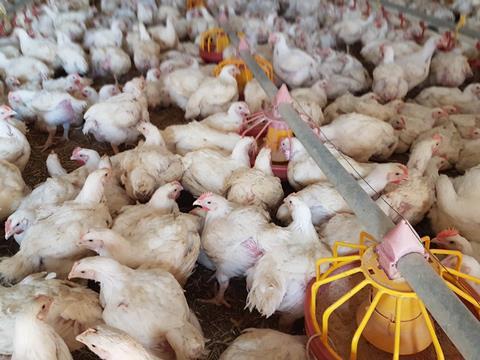 Compassion in World Farming has warned that a "fundamental shift" across the food industry is needed to build supply of higher-welfare chicken ahead of the 2026 Better Chicken Commitment.
In its first European ChickenTrack report, which rounds up progress over the past year and lays out a reporting framework, the animal welfare charity described the growing number of pledges across food as a "positive and hugely important first step towards making higher welfare chicken the norm".
However, it argued a "collective effort" was needed before the 2026 deadline of the Commitment, which seeks higher standards for broiler chickens including the improvement of breeding and living conditions and slaughter practices.
Currently, more than 270 food companies including the likes of M&S, KFC and 2 Sisters Food Group have signed up to the BCC pledge, the report stated.
Signatories are required to adopt several welfare-orientated measures including the use of slower-growing breeds, the provision of more living space and enriching the birds' environment via access to perches, pecking substrates such as straw bales or scattered grain and natural light.
More humane slaughter methods and submission to third-party audits are also required.
The report welcomed public facing commitments but said the implementation of change was "vital" and would require working with both internal and external stakeholders in the supply chain.
Recommendations included working and agreeing contracts with suppliers, gaining consumer buy-in, and potentially adapting product offerings.
"Companies signing up to the BCC are taking a major step towards raising baseline standards for broiler chickens, and we urge every food business to take that pledge," Dr Tracey Jones, global director of food business, Compassion in World Farming said.
"But a commitment alone is not enough; it is essential that companies move forward on their implementation plans and report year-on-year progress. ChickenTrack will help monitor that progress annually and will provide recommendations and advice, while recognising those companies that are leading the way.
"We are excited about the future of chicken welfare and will continue to work with industry to ensure that better standards for broilers are accomplished. System change at scale and pace like this inevitably comes with its challenges but with open minds and resourcefulness a true market shift to higher welfare chicken is achievable if we all work together now to make it a success."
The news comes as Compassion in World Farming's fifth EggTrack report, published last week, revealed that the demise of hen cages was inevitable and imminent.
Findings showed 156 of 219 (71%) tracked companies reported making progress on their cage-free commitments—up from 63% in 2020.
Of the 47 companies with global commitments, 26 (55%) reported making headway, and since last year, an additional 12 companies had expanded their commitments to cover their entire global egg supply, the report found.
"This year's EggTrack has many positive messages which suggests the demise of the cage is inevitable," Jones said. "Despite the global pandemic continuing to deliver uncertainty and obstacles for the entire food sector, many companies have persisted in their efforts to go cage-free.
"The landmark decision by the European Commission to phase out cages for all farm animals across the continent by 2027 has set the tone for cage-free egg production across the globe and we are already witnessing a rise in global commitments as corporate cage-free sign-ups ripple out to other regions."