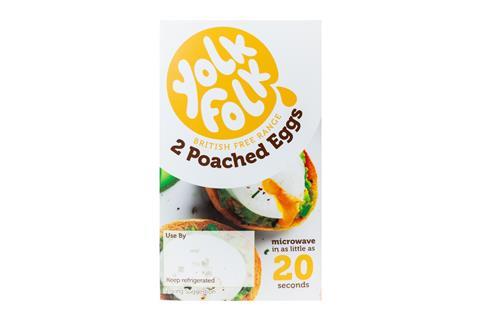 Freshpak Chilled Foods has launched what it is claiming is a solution to one of the culinary world's biggest problems: cooking the perfect poached egg.
The supplier's solution is its new Yolk Folk brand, a chilled two-pack of part-cooked British free-range eggs, which will go on sale in 818 Co-op stores by the end of June and can be microwaved in 20 seconds (rsp: £1.25).
The product was the result of two years of scientific research and development, said Freshpak, with the eggs going through a 20-plus stage process of cooking and cooling to ensure the whites were fully cooked, while the yolks were pasteurised and remained soft.
After microwaving the eggs, shoppers could expect a poached egg "with an oozy, golden yolk every time", it said, with "no more fuss and faff".
The product's creation followed research for Freshpak last year which found that 65% of shoppers struggled to cook a perfect poached egg every time. This came despite there being 365 million poached egg usage occasions in the UK last year [Kantar].
"With more households wanting to replicate their favourite out-of-home brunch in the home, we're confident that Yolk Folk poached eggs will provide the perfect start to people's weekends," said Freshpak commercial director Jamie L'Estrange.
Yolk Folk is not the first time suppliers have attempted the tricky feat of making eggs easier to prepare. While brands such as the Happy Egg Co have launched ready-made scrambled egg variants in recent years, other innovation has been harder to achieve.
In 2013, Pork Farms announced short-lived plans to launch its Dippy Egg, a pre-cooked soft boiled egg, which ultimately failed to get off the ground. Then in 2015, supplier The New Egg Company was spun out of Pork Farms in a bid to get launch its Dippy Egg successor Yowk. However, this product also failed to gain traction with retailers.