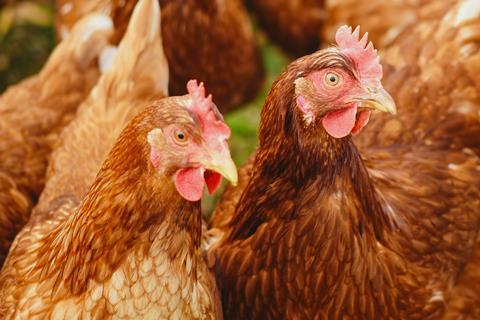 Nando's has committed itself to higher animal welfare standards and sustainability targets by signing up to both the Better Chicken Commitment and the Science Based Targets initiative.
The chicken restaurant chain said it would now work with its suppliers to raise its chicken welfare standards to the standards required by the BCC by 2026, and would also move to halve the carbon footprint of an average meal by 2030.
The company added that while higher welfare chicken production tended to have a larger carbon footprint, it aimed to pursue a "fully integrated approach" for the two issues.
"Over the past four years our sustainability initiatives have significantly reduced our carbon footprint, but today we are launching ambitious new commitments which will set a strong example for what our industry can do to make a genuine difference," said Nando's CEO for UK and Ireland, Colin Hall.
"We are particularly proud that with these targets, we will become the first in our industry to combine improvements in environmental sustainability with animal welfare."
In committing to the BCC – a set of chicken welfare standards drawn up by leading animal rights groups – Nando's joins the likes of KFC, M&S and Waitrose, all of whom have pledged to meet its six requirements by 2026.
These include using slower-growing breeds so that undue pressure is not placed on chickens' bodies as well as introducing lower stocking densities.
Last year, the chain was targeted by a campaign by animal rights group World Animal Protection. WAP's #TheRealCheekyNandos petition, aimed at getting the firm to improve its welfare practices, gained 36,000 signatures.
"This is fantastic news for millions of chickens in the UK and we expect other major fast food brands to follow suit," said WAP campaign manager Lindsay Duncan.
"Our #TheRealCheekyNandos campaign in 2019 showed customers are increasingly aware of animal welfare issues and this result shows companies are listening. We will continue to offer our support and expertise in how to make these changes and call on other companies to do the same."
Meanwhile, the Science Based Targets initiative – set up in line with the 2015 Paris Climate Agreement – commits Nando's to achieving 'absolute zero' direct emissions by 2030.
It will also commit it to cutting the carbon footprint of an average Nando's meal by close to 50% over the same period. The chain said it had already slashed the footprint of its meals by nearly 40% since 2015.
To achieve the required results, it will have to source all the energy used in its restaurants from renewable sources and commit to transparent reporting on its progress.
"Nando's is a significant customer of agriculture, and we welcome the fact that it is thinking broadly and with ambition about its commitments in these areas, setting new goals whilst seeking to avoid unintended consequences, and thinking across climate, nature and health," said Soil Association deputy CEO James Cashmore.
"We challenge – and stand ready to support – both Nando's and all other food businesses who are looking to do the same."
The news comes after KFC continued its own push to improve chicken welfare by publishing its inaugural welfare report.
Authored by independent auditors FAI Farms, the report found the foodservice giant's suppliers slaughtered 61% of broilers using the BCC-approved method of controlled atmospheric stunning, while mortality rates had dropped from 4.15% in 2018 to 4% in 2019.