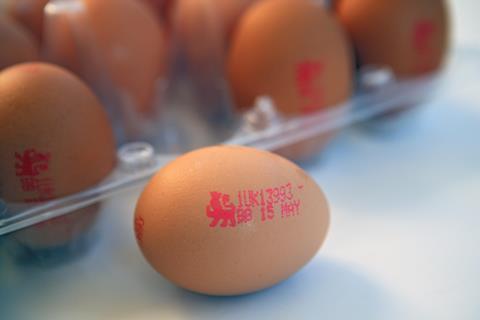 The future of the barn egg sector is in doubt amid reports Sainsbury's has decided to stop sourcing the egg type from next year and sell only free range eggs.

Sainsbury's currently stocks two barn egg SKUs under its Basics tier, and represents about 60% of the entire barn egg market in the mults. However, it is set to stop selling the product from 31 March 2020, according to a report first published by farming news website Agriland this week.

The retailer declined to comment on whether the Agriland report was true, citing "competitive reasons". A spokeswoman said: "In order to meet increasing demand for free range eggs while offering the best possible value, we recently made some updates to our supplier base."
But any decision to stop selling eggs from the production system was described as a "blow" for barn egg producers, with many still paying off loans for the transition away from battery cages due to the UK's ban of the system in 2012, said NFU chief poultry adviser Gary Ford.
Barn eggs currently make up just 1.4% of the total volume of shell eggs sold in UK supermarkets [Kantar 52 w/e 24 March], with organic at 1.6%, caged hen eggs at 34.3%, and free range at 62.8%.

But with all major retailers set to abandon caged egg systems by 2025 over animal welfare concerns, barn systems were seen as an ideal alternative value tier, Ford added.

His comments were echoed by British Free Range Egg Producers Association CEO Robert Gooch, who said producers hoped barn production would ultimately meet the demand left by caged hen eggs.
"When retailers deliver cage-free pledges there must be a value egg available," Gooch insisted.

"It would be disappointing for any retailer to decide against stocking barn eggs to give consumers choice at a variety of price points. My members are already experiencing significant price pressure and can ill afford for their product to become the budget option."

With retailers seemingly focusing on free range eggs, any future investment in barn systems would require significant investment, added Ford.

"Producers would also need big guarantees from the food industry before spending any money," added an egg sector source. "Not just from the retailers, but also from animal welfare groups to clarify the system will be acceptable in future."

Responding to Sainsbury's move, Compassion in World Farming food business manager Basia Romanowicz applauded the retailer. "It's decision will have a positive effect on animal welfare," she said. "We work closely with retailers and actively encourage companies to source cage-free eggs including barn or free-range. The latter offers the best potential to meet hens' welfare needs."

However, the prospects for barn systems was not entirely bleak, stressed the NFU's Ford. "The amount of barn layers in the UK has doubled to more than 1.15m during the past year, with investment particularly driven by food service and the eggs as ingredients sector," he pointed out.

"The picture is unsure regarding retailers, but I can see demand from some retailers growing as we approach the end of caged systems in 2025."