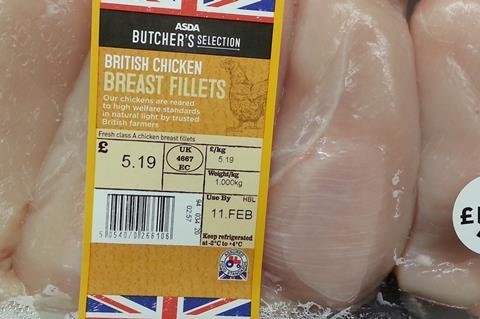 The majority of basic own-label supermarket chicken has been degraded by white striping disease, according to a new report by The Humane League.
Some 85% of so-called factory-farmed chicken breast SKUs from eight major retailers, which had been photographed and examined by the animal rights group, showed signs of the disease – namely a striped pattern of fat running across the fillet.
Asda was labelled as the worst offender for this kind of issue. Ninety-four per cent of the samples of its standard chicken seen by the group showed signs of striping. Aldi and Lidl packs were the next worst, on 92%.
In comparison, just 11% of higher-welfare chicken (such as products from organic or free-range farming systems) displayed signs of white striping.
The disease is said to be particularly prevalent in chickens that have grown too quickly and reduces both the nutritional value and texture of their meat.
"There are clearly shocking levels of white striping disease throughout the UK retail industry," said The Humane League MD Vicky Bond.
"It is now more urgent than ever for supermarkets to move away from fast-growing breeds of chicken, which are not only the source of so many health and welfare issues for chickens, but also result in a much lower-quality end product."
The Humane League encouraged retailers to sign up to the Better Chicken Commitment, a set of chicken welfare guidelines it drew up in 2017 with 27 fellow animal rights groups. So far, the only UK retailers to have made the pledge are M&S and Waitrose.
In response to the report, the BRC said retailers "take their responsibilities to animal welfare very seriously".
"Retailers expect their suppliers to adhere to all legal requirements and, if applicable, additional industry standards such as the Red Tractor assurance scheme," said Elizabeth-Andoh Kesson, food policy advisor at the BRC.
"Customers have a choice of free-range and organic chicken in addition to the standard range."
Tesco, which is not represented by the BRC, said all of its fresh chicken is British and either "meets or exceeds" legal animal welfare and Red Tractor standards
"Working with our farmers and suppliers, we are committed to continuously improving the quality of our range to stay in line with best practice and animal welfare expertise," said a Tesco spokesman.
"Our Finest, Organic and new RSPCA Assured Room to Roam ranges meet or exceed every aim of the Better Chicken Commitment."