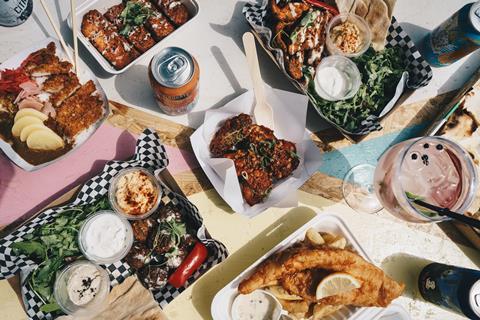 Britons on furlough started 634 new food takeaway and delivery businesses last year, bringing the total of debuting businesses in the sector to 9,062.
Those made redundant as a result of the pandemic created 1,450 new food businesses, according to research by The Accountancy Partnership, a third more than did so in 2019.
The business type was the sixth most popular category of new businesses debuting last year, with retail and management consultancy the most common.
"Our research shows that many lockdown entrepreneurs saw creating their own takeaway food businesses as their only option after being made redundant or facing other financial troubles, but the statistic of those fulfilling longer-term dreams of owning a business is hugely encouraging," said The Accountancy Partnership MD Lee Murphy.
"It means that even businesses launched out of necessity have people behind them with a genuine desire to be business owners. This enthusiasm will help fledgling businesses thrive despite the adverse circumstances of their inceptions."
Across all business types, nearly half a million new businesses launched last year – a record 84,758 additional businesses compared with 2019. The pandemic provided a "final push" for the "lockdown-preneurs" to make the leap into running their own companies, Murphy added.
The new business boom comes after UK unemployment rose to a record high of 5.1% in December, following 370,000 redundancies in the period from August to October alone.
A survey more than 1,200 entrepreneurs by The Accountancy Partnership found nearly half had always wanted to be their own boss, and a similar proportion hoped to make their new company their sole source of income.
Their new businesses are starting life more precariously than in previous years, the survey found. Last year, 39% of businesses were started with less than £500, compared with 33% in 2019. But 40% of the businesses started in 2020 have no financial cushion whatsoever, compared with only a quarter of 2019's.
"The pandemic has presented many people with the time and opportunity to turn a side hustle into their main source of income," Murphy said. "The 'lockdown-preneurs' have some difficult waters ahead of them as we navigate the rest of the pandemic and the recovery period, but our research suggests that there are enthusiastic, passionate people behind a significant number of lockdown businesses and that is critical to success."
Separate research from domain registrar and website firm GoDaddy found nearly one in 10 (9%) of 16 to 24-year-olds had started their own business since February 2020. A further 18% of young people surveyed said they had a concrete business idea and were in the process of setting up their own company.