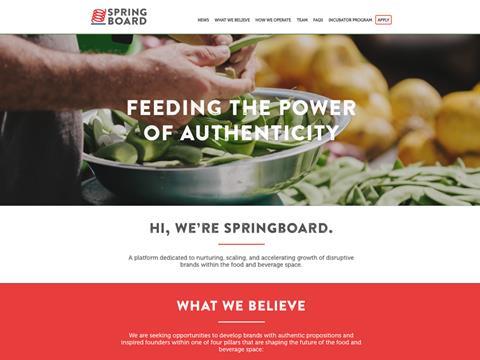 The Kraft Heinz Company is looking to tap growing consumer demand for 'authentic', organic and healthy food and drink with a new incubator and accelerator programme for grocery startups.
It has launched Springboard, a platform "dedicated to nurturing, scaling and accelerating growth of disruptive brands within the food and beverage space".
Springboard will focus on brands in four areas that Kraft Heinz believes will be key growth drivers in the future: natural & organic, speciality & craft, health & performance, and experiential.
The programme is initially open to US brands only.
Startups that join the programme will be given support from Kraft Heinz in "go-to-market capabilities, research and development and consumer insights". Founders would be encouraged to continue leading their own businesses, Kraft Heinz said.
Springboard will offer partnerships, an accelerator programme as well as an incubator programme. The latter is open for applications now until 5 April and selected brands would "have the opportunity to receive financial support to build brands and guidance to raise additional funding".
"We are committed to support and partner with teams that will impact the future of our industry," said Sergio Eleuterio, general manager of Springboard Brands. "We are actively searching for emergent, authentic brands that can expand into new categories, and are looking to build a network of founders to help shape the future of foods and beverages."
Brands already signed up to work with Springboard include plant-based protein maker Boca and male-focused frozen ready meals brand Devour.
Increased collaboration
Kraft Heinz joins a growing number of fmcg corporates that are running incubator or accelerator programmes in a bid to boost NPD and tap fast-growing markets. Examples include Unilever Foundry, Diageo's Distill Ventures and Barilla's new Blu1877 venture capital vehicle.
Last year, a report by Unilever Foundry predicted that corporates and startups would be working "side by side" in co-working spaces by 2025.