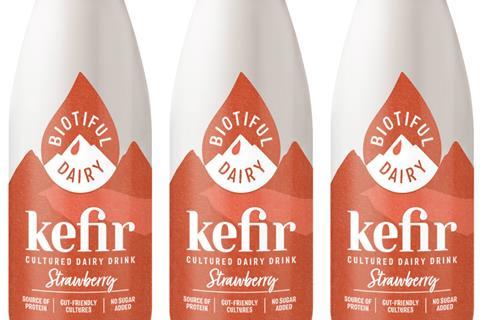 Gut health, seltzers and seaweed are among the food and drink trends Tesco is looking to nurture this year through its annual incubator scheme.
The grocery giant has announced the nine small fmcg businesses that will take part in its 2019 programme. Kefir maker Biotiful Dairy, sparkling water brand Ugly Water and Mara Seaweed, which creates healthy alternatives to salt-based seasoning, will be joined by craft brewer Thornbridge Brewery, meal kit brand Simply Cook and free-from cake startup Just Love Food Company.
There will also be three non-food & drink entrants: cosmetics brand MUD, petfood supplier Naturo, and nappies supplier Rascal & Friends.
Tesco launched its incubator in 2017 "to give a helping hand to a carefully selected group of small entrepreneurial brands that have the potential to offer something different and exciting to customers" it said.
Over the past two years, 28 suppliers have participated in the scheme, including BrewDog, Propercorn, Fever-Tree, Bol and Graze.
Once selected, each brand completes a year-long programme that includes guidance on effective marketing, access to Tesco's customer insight, and advice from the grocer's product team.
The incubator was a "really important part of the work we've done in recent years to build closer, long-term partnerships with our suppliers" said Tesco group chief commercial officer Andrew Yaxley.
"There are so many brilliant brands out there, and we're proud to partner with some of those we believe are at the forefront of the latest consumer trends. By working in partnership, we can provide customers with fantastic, innovative products, and continue to help suppliers of all shapes and sizes develop and grow with us."
Natasha Bowes, founder & CEO of Biotiful Dairy, said she was "delighted to be recognised for healthy innovation and driving growth in the dairy category, with kefir and gut health identified as major growth areas for Tesco".
Biotiful was "really looking forward to maximising the positive impact of 'healthy little swaps' in this partnership with Tesco, with the consumer being the main beneficiary" she added.
Watch: the latest in fermented dairy drinks
Seltzer maker Ugly Drinks was "excited to work in partnership with Tesco to continue to disrupt the drinks category and provide people with genuinely delicious sugar and sweetener-free alternatives" said co-founder & UK GM Joe Benn. "The incubator gives us the perfect platform to build on our current success with Tesco."
Thornbridge's place on the 2019 incubator programme "came as a bit of a surprise" even though the brewery had "been dealing with Tesco for some time" said co-founder and CEO Simon Webster. "To be part of the scheme is fantastic."
He looked forward to using Tesco's data to "find out who's buying our beer and what else they're buying, and then use that information to enhance what we offer".