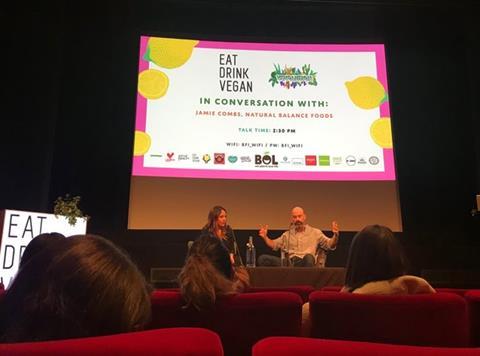 Have you heard the news? There's a revolution afoot, and it's plant-based. Not only has the Beyond Burger finally launched in Tesco, but vegan festivals are no longer confined to barefoot communes, nor even hipster hubs like Shoreditch.
Following hot on the heels of October's Veg Fest at Olympia, this weekend saw the British Film Institute on the Thames' South Bank play host to this year's Vevolution Festival. Aiming to be an inclusive, educational meeting of minds, it was billed as a 'grass-roots festival for plant-powered people'.
Its first order of business was to assuage concerns that demand for plant-based chefs was outnumbering supply. In attendance was community kitchen Made In Hackney, which is now running 100% plant-based, organic masterclasses ranging from hour-long introductions to four-month commitments. Meanwhile chef, instructor and recipe consultant Lauren Lovatt, alongside chef and author David Bez, are set to launch the Plant Academy, subject to the outcome of a £20k crowdfunding drive. The culinary institute would train everyone from beginners to classically trained pros on how to create more inspiring meals from plants.
It's great timing, as even more people are expected to hop on the plant-based bus to animal-free living this Veganuary. After the 78,000 Brits who signed up in 2018, the fifth year, 2019, is set to be even bigger, according to its head of campaigns, Rich Hardy. Already, new and upcoming brands are looking to align themselves with the charity in the hopes of making a tsunami out of the ripple effect.
And there's certainly no shortage of new vegan brands. Vevolution was buzzing with young plant-based entrepreneurs taking advantage of several business-focused panels, plant-based business seminars and boot camps. It also runs a Dragons' Den-style competition, called Pitch & Plant, with £100k investment up for grabs.
The boom can be attributed to the wider availability of information, says Vevolution co-founder Damien Clarkson. With anti-meat What The Health and Cowspiracy documentaries (both slammed by the meat sector, while even Greenpeace called Cowspiracy "sensational") readily available to stream, young entrepreneurs are being galvanised into action.
They are being joined by a growing number of more established names. Bol founder Paul Brown took to the stage to tell the audience about his own "Cowspiracy epiphany", which led to his company ditching meat and fish from its ready meal pots overnight, eventually cutting out dairy earlier this year.
"We started in April 2016, and in our second year we hit £6m revenue. Things were going great, then in early 2017 I read The Food Revolution and watched Cowspiracy, which started me on the long road to summer 2018," he said. "Back then, 52% of our business had meat and fish so the decision to drop those recipes cut revenues in half as we simply didn't have recipes to replace them."
Part of the business appeal of plant-based is that it's much more than a trend, added Jamie Combs, founder and MD of Natural Balance Foods, which created the Nakd bar. It's the "next phase of consumer behaviour", he claimed, arguing it's just the beginning of a wider backlash against the over-processed, mass-produced food sold in the mults today. Instead, Combs expects a resurgence in foods recognisable as having been pulled from the ground.
Just a look around at the painfully hip things in the audience – with goody bags declaring them the 'plant powered generation', often coupled with t-shirts bearing slogans like 'vegan queen' – would tell you the movement is young, outspoken and proud. And now they're willing to bridge the gap between the anti-capitalist vegan mindset and entrepreneurial spirit.