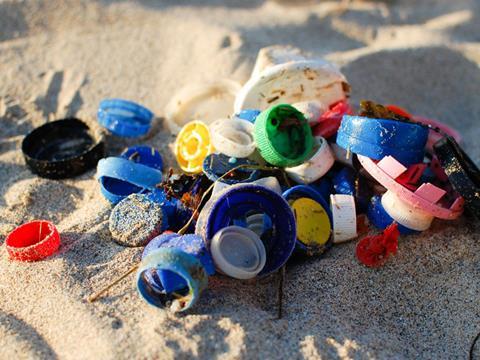 An environmental charity is calling for a refundable charge of up to 20p to be levied on all single-use plastic, metal and glass drinks containers in a bid to address the rising tide of waste littering Britain's beaches.
The Marine Conservation Society made the recommendation after its annual beach litter survey showed the number of discarded plastic bottles on coastlines had shot up by more than 43% on the previous year, while the volume of metal cans had risen by 29%.
Of the 340 beaches cleaned during the charity's Great British Beach Clean last September, an average of 99 bottles were picked up per kilometre and volunteers found a record high of almost 3,300 pieces of litter per kilometre - a rise of 34% on the year before.
The findings have prompted MCS to call for a refundable surcharge of up to 20p to be added to bottles and cans to tackle soaring litter levels.
"Lots of people will remember taking pop bottles back to the shop and up until last year the makers of Irn-Bru were returning 30p on glass bottles," said Lauren Eyles, MCS Beachwatch manager.
"Currently DRS schemes run successfully in Germany, Denmark, and some states in Australia and the USA. Studies have shown that a scheme can reduce the amount of littered drink containers, lead to more recycling and contribute to the circular economy - where resources are used again and again to extract maximum value. The schemes put a surcharge on drinks containers and when they're returned - avoiding pollution - the surcharge is refunded."
A Defra spokeswoman said: "Our seas and beaches are enjoyed by millions of people as well as providing a home for a wide range of wildlife, so it's vital we keep them clean and litter-free.
"Everyone has a responsibility to dispose of their litter properly whether on land or at sea."