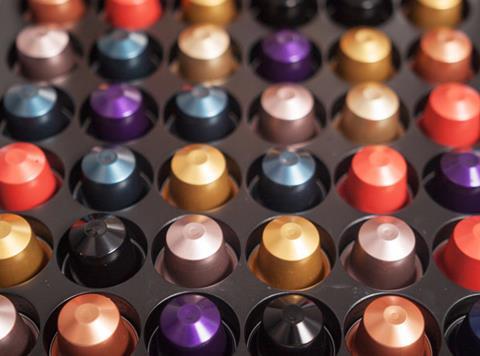 Coffee's history has been fraught with ethical and environmental criticism – from the eco impact of the farms, to how much the workers are paid and, most recently, what's to be done about the millions of cups ending up in landfills and incinerators as a result of its consumption.
Now, there's another row brewing, one concerning the darling of the moment – coffee pods. As supermarket sales surge by 29.5% to £137.5m [Kantar Worldpanel 52 w/e 22 May 2016] the recyclability of these disposable capsules is being pulled into question again, and rightly so.
With millions of pods hitting the market every year, predominantly made of plastic and aluminium, where they end up is of increasing concern.
So can consumers enjoy coffee pods without a guilty conscience? Well, does George Clooney look like he's battling inner demons as a result of his Nespresso habit? His smooth smile would suggest not.
Indeed, with some authorities already making moves to discourage the use of pods – the city of Hamburg earlier this year banned them from its council buildings – manufacturers are working to ensure their products' eco-credentials don't tarnish coffee pods' growth.
Nespresso recently "significantly" extended the reach of its recycling programme in Australia, which sees the capsules collected via a network of 4,000-plus post offices and 15,000-plus street post boxes. UK consumers can recycle their pods via Nespresso's collection service, at its boutiques or with Collect+ and Doddle, with the first offering a fairly convenient solution.
Dualit, meanwhile, has added to the collection of compostable pods on the market. Made from corn starch, the pods can be put in with food waste destined for industrial composting processes. For the consumer, this means minimal effort, with no extra separation of materials or drop-offs to arrange. After all, the whole point of coffee pods is offering consumers a high-quality, great-tasting coffee in a convenient format.
In line with the waste hierarchy, not creating waste in the first place will always come above recycling it, but with coffee pod sales showing no sign of slowing down, reducing their environmental impact is a great first step.
While the battle rages on over coffee cups, this is especially good news for retailers. It adds another reason for caffeine addicts to brew at home rather than go to Starbucks, especially as the chain's coffee is now available in Nespresso-compatible pods in Tesco.
For more news and analysis on waste and the environment, don't miss The Grocer's annual Green Issue, out this week.