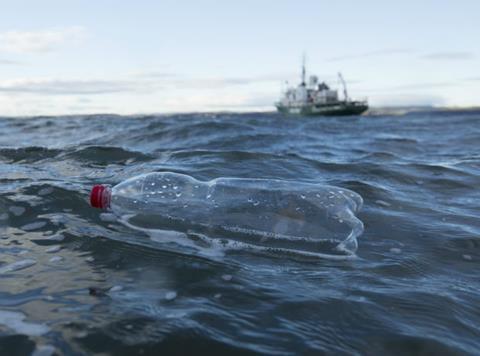 Just under half (44%) of 2,138 consumers questioned about buying bottled water admitted they had environmental concerns, and 31% said they felt 'guilty' when they bought a single-use plastic water bottle.
Despite that, only 17% of consumers are strongly committed to finding alternatives to single-use plastic bottles, a study found.
The report, commissioned by BRITA UK and environmental charity Keep Britain Tidy, found that only 36% of consumers carry a refillable water container with them, with nearly a third (29%) of millennials saying they don't use refillable bottles because they find them 'too heavy'.
In addition, 51% still purchase bottled water because they forget to take their reusable bottle out, and 23% said carrying one is inconvenient. Over a fifth of consumers who own a refillable bottle said they don't use it regularly, and 2% have one but have never used it.
"The damage single-use plastic is doing to our marine and wider environment and marine life has been well documented, and it is clear many people are committed to tackling this," said Sarah Taylor, managing director of BRITA UK. "At the same time, this research shows that old habits are ingrained and that often the 'hassle factor' outweighs concern about the environment."
A fifth of consumers said they bought bottled water for use at home, and 27% said they were more likely to purchase a single-use bottle if it was included in a meal deal.
The lack of options at transport hubs also appears to be fuelling single-use plastic, with 63% of consumers prone to relying on bottled water when travelling long distances by car, and two fifths revealing they were likely to purchase it at the airport.
Respondents also suggested several changes retailers could make to encourage them to use less single-use plastic. Over three-quarters (78%) said there should be greater availability of free tap water across the UK, 73% said they would view a business more favourably if it gave free tap or filtered water on request, and 43% said they would be more likely to use reusable bottles if more were designed to filter tap water.
Close to two thirds (65%) would be more likely to make a purchase if they could get a refill, 64% said it would make them more likely to return to a store for future purchases and 62% said they would choose a businesess that offered refills over a competitor that did not.
"What's clear is that there is much more we can all do to help people swap for good to things like refillable bottles and reduce their single-use plastic footprint, whether that is reassuring them about the safety of water fountains or making it as easy as possible to fill up and stay hydrated on the go," said Taylor.
Allison Ogden-Newton, chief executive of Keep Britain Tidy, said: "There has been encouraging progress in the past year to address litter levels from single-use plastic, but this report demonstrates that we are not there yet. We've simply got to get to a situation where topping up in glass or refillable bottles is the norm."