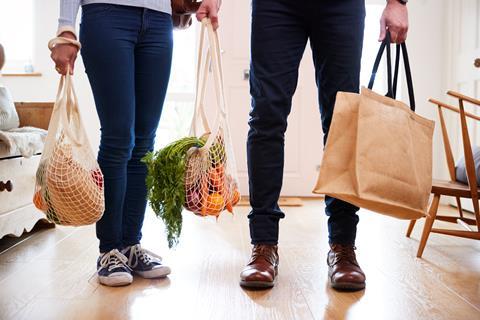 Media attention on climate change, ecological damage and waste are at an all-time high. As research from our new food & grocery sustainability playbook reveals, there has been a marked increase in sustainability-related searches in the UK over the past 12 months – and, after the NHS, climate change is the issue people in the UK are most concerned about. Three-quarters of the public agree future generations are in jeopardy if we don't change the way we live in the next 10 years.
Our research tells us the growing consumer awareness and concern about the state of the planet is beginning to shift from learning and understanding to wanting to act. As consumers become more educated on this issue, they're showing a desire to take personal responsibility. The Covid-19 pandemic has put the spotlight on the globalised nature of our food supply and the fragility of our health. The amount of household waste we generate has been highlighted by an increase in at-home consumption. Additionally, consumers have had to adjust to consuming less, whether it be fashion, travel or entertainment, and many are realising they may not need to return to pre-Covid consumption habits.
The crisis has also triggered consumers to re-evaluate their relationship with brands, and prioritise those that are doing good and being helpful in the context of the pandemic. Smart Shopper, a study commissioned by Google and conducted by Kantar in May 2020, shows that a brand's stance on sustainability or social issues is important to shoppers, with 62% saying they cared about at least one sustainability aspect when purchasing online in 2020.
Google's commitment to sustainability
Sustainability has always been a core value of Google. We've eliminated all legacy emissions since our inception in 1998, and become the first major company to be carbon neutral in 2007. We've even replaced 100% of electricity use with renewable energy since 2017, and expect to be the first major company to operate carbon-free by 2030. Big goals, to be sure – but ones we're confident we can achieve. In fact, Google is already the largest corporate purchaser of renewable energy in the world.
But sustainability goes beyond reducing emissions. It's in everything we do, from eliminating single-use plastic in our offices to actively tackling food waste in all of our Google cafés. Between 2014 and 2018, we saved food weighing six million pounds by bringing our technological capabilities into the kitchen, and we're passionate about helping others do the same. We've seen the impact that changes large and small can have – and by bringing the best of Google to your business, we're excited to spark ideas and empower others to achieve the same.
Helping the food industry become more sustainable
Sustainability is a journey, not a destination – but it's a journey all businesses need to go on. Grocers and manufacturers face four huge challenges in their sustainability journey across energy use, sustainable diets, food waste and plastics/recycling, and they can't face these alone.
Businesses like ourselves face similar responsibilities and technology has a huge role to play in helping businesses progress these journeys. We are absolutely committed to working with brands, food manufacturers, consumers, government, and tech providers to use technology to accelerate positive change in the food and grocery industry and hopefully our playbook can drive awareness and share examples of how this can be done for businesses in the sector.