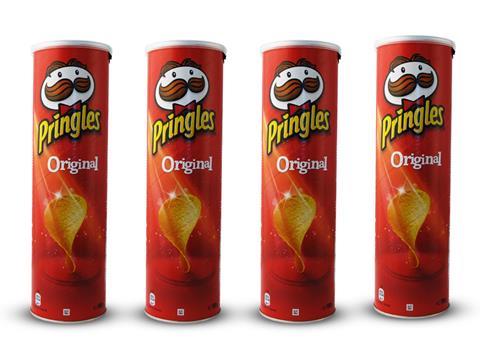 Kellogg's new recycling scheme for used Pringles tubes is welcome but misguided, The Recycling Association CEO Simon Ellin has said.
The cereal and snacks supplier announced the initiative last week in an attempt to make its packaging greener. It said UK shoppers would be able to recycle Pringles cans from December, following a deal struck with the recycling company TerraCycle.
The scheme will invite shoppers to use a freepost label to send their empty packs to TerraCycle – where they will be turned into pellets. The pellets will then be used to create items such as benches and fence posts.
Each recycled pack will win the sender a charitable donation that can be redeemed for a school, charity or non-profit of their choice.
Ellin strongly criticised the unrecyclable Pringles can last year, dubbing the cylindrical carton – a combination of cardboard outer, foil lining, metal base, foil seal and plastic lid – "the worst packaging offender" in terms of recyclability, and asking "What idiot designed this?"
The new return scheme was "an improvement, but I must admit I find it a strange one" Ellin told The Grocer. "It seems a bit onerous on the public and is a little sticking plaster-esque. The use of the materials in park benches is hardly circular either."
Pringles would be better advised to make its packaging recyclable, he added. "Redesigning while retaining the brand identity is not that difficult."
Colgate recycling programme
Colgate this week announced a similar partnership with TerraCycle. Shoppers can return any brand of toothbrush, toothpaste tube or toothbrush head to collection points shown on TerraCycle's online map. People can also sign up to be a collector and win charitable donations.
"With the global plastics issue high on the agenda for all, the Colgate Oral Care Recycling Programme promotes sustainability," said Philip Durocher, general manager for Colgate UK.
"We really encourage people to take advantage of the programme and recycle their oral care products and packaging, and tell their friends and family about this new recycling initiative."