It can't have been much fun for poor Frans Timmermans. "Shame!" came the heckles as the European Commission's vice president delivered the news that environmentalists had been lobbying against. The Circular Economy package was not to appear on the 2015 Work Programme after all, Timmermans revealed in his speech at the December plenary. Cue the pantomime hiss.
The Circular Economy package was supposed to drive forward a Europe-wide approach to packaging, taking into account the entire lifecycle of a product in order to appreciate its full environmental impact - in short, 'from cradle to grave.'
The proposal had been hailed as a crucial step forward in environmental policy-making. But in early December there was a leak, suggesting it might be dropped after all. Anger spread like wildfire among charities, politicians and businesses. Adverts depicting the reforms discarded in a solitary wastepaper bin were placed in national newspapers by Friends of the Earth; a letter calling any abandonment 'short-sighted' was signed by a coalition of influential figures, including Sheila Redzepi of Unilever and Mike Barry of M&S, and published in the Daily Telegraph; and the Twitterati pledged their support in 140 characters or fewer.
That Timmermans announced the reforms were merely being delayed rather than scrapped, to allow for the drawing up of a "broader, more ambitious approach," arguably came as a direct result of the backlash. So now, as commissioners head back to the drawing board, what improvements should they make to the Circular Economy package? And what can they learn from the packaging industry?
Disproportionate
Most pertinent for food and drinks supply chains was a proposed amendment to the EU packaging directive; had this been adopted, the sector would have been required to recycle or prepare for re-use 80% of packaging by 2030, with the landfilling of recyclables to be phased out by 2025. Producers alone may have been required to fund the cost of municipal waste treatment to hit the targets, with a standardisation of Extended Producer Responsibility (EPR) across member states.
EPR is not a new concept for producers in the UK, who are already obliged to meet the costs associated with the re-use of a proportion of their packaging (see box). However, packaging industry researchers Incpen criticised the 'disproportionate' burden the proposals appeared to place on the supply chain. And for some, the targets-based approach to packaging missed the point entirely.
"It was too much about waste, and too much about packaging," says Dick Searle, chief executive of the Packaging Federation, who had been heartened to learn the "utterly unrealistic" reforms would be shelved. Indeed, there was resistance to new environmental targets reflected in the UK government's own response during consultation on the document, in which it called for any such alterations to be "economically efficient, cost-effective, realistic and achievable."
"There is too much focus on recycling at all costs rather than understanding that recycling can use more energy, and more economic input, than the intrinsic value of what comes out," adds Searle.
In other words, too much focus on end-of-life, or re-use and recycling, and too little on the circular, self-restorative economy promised in the name, an approach harnessed by the science of Life Cycle Assessment (LCA).
The big picture
The LCA methodology is used to measure the environmental impact of a product or material throughout its entire lifespan by studying each stage of the process. The analysis incorporates the impact of both the package and its contents, taking into account the extent the materials protect and preserve the food within. It's an important counterpoint to the often damaging end-of-life fixation that prevails in debates about waste.
"In some cases the end-of-life scenario is only 20% of the impact of the pack," says Alan Campbell, technical director of the LCA Centre, based in The Netherlands. "The really big gain in packaging design lies at the beginning-of-life stage. Get that right and the whole lifecycle delivers benefits."
Campbell believes packaging is about functionality, not about materials or end-of-life, and the trick is to achieve that functionality with the best possible choice of materials through careful design.
That means packaging made using carbon-intensive processes could, under certain circumstances, actually be a better choice than packaging made from more sustainable materials - it's more efficient at protecting its contents, for instance.
Failing to take account of this bigger picture would make the industry no better than the environmentally conscious, if slightly ill-informed, consumer at a checkout till when offered the choice between a paper and a plastic bag. They might think the eco-friendly option would be the paper bag because it's biodegradable and recyclable, but they fail to consider the vast ecological destruction that comes about as a result of the extraction of paper fibre needed for its creation, according to Leyla Acaroglu , the founder of Australian design firm Eco Innovators.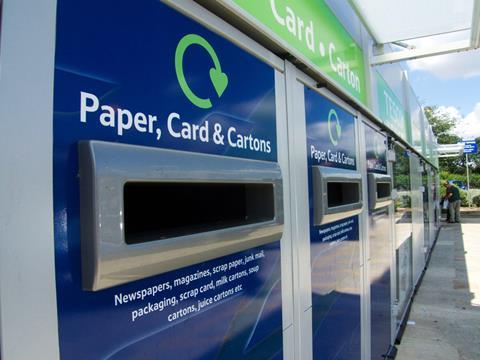 Obligations
for UK firms
The Packaging and Packaging Waste Directive is implemented in the UK via the Producer Responsibility Obligations (Packaging Waste) Regulations, which came into force in March 1997, and were amended in 2007.
These place obligations on businesses to recover and recycle specific tonnages of packaging waste, and to get their recovery and recycling certified.
A company is not obligated under the scheme if it fails to meet one of two threshold tests. It is exempt if it either handles less than 50 tonnes of packaging per year, or has a turnover of less than £2m per year.
If it is obligated, a company must prove it has funded a certain tonnage of packaging recycling, calculated on its output and its position within the supply chain.
It must then register this compliance with the Environment Agency / Scotting Environment Protection Agency, or other schemes.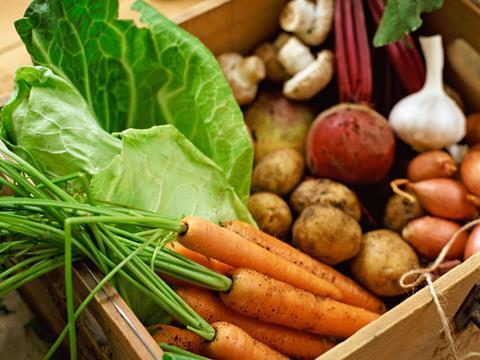 Quiet revolution
It is a narrow logic the food and drinks sector has looked to avoid, as it seeks to respond to a growing call for enhanced sustainability from consumers - with or without changes to any EU directive.
"The industry has undergone a quiet revolution in recent years and it is now one of the most innovative manufacturing sectors in the country," says Tony Foster, sales and marketing director of DS Smith Packaging. "Collectively we all have to shout louder and be prouder about what we do. We are cutting unnecessary waste, materials and cost from packaging all the time and, while we can never be complacent, the industry as a whole should rightly be proud of its progress."
To track this progress one need look no further than the achievements of signatories to the first two phases of the Courtauld Commitment, a voluntary agreement aimed at reducing waste within the UK grocery sector.
In 2008 the initiative achieved its Phase 1 target to achieve zero growth in the packaging waste produced by its 42 signatories, although it failed to reduce the total weight of packaging produced, which Wrap explained by an increase in grocery sales of 6.4%.
Then from 2010 to 2012, the 53 signatories - including Waitrose, Morrisons, M&S and Asda - achieved a 10% reduction in the carbon impact of their packaging supply chains, once again meeting the Wrap targets for the Phase 2 agreement.
"Collectively we all have to shout louder and be prouder about what we do. And the industry should rightly be proud of its progress"
Now in the midst of phase 3 of the commitment - with a target to reduce traditional grocery ingredient, product and packaging waste in their supply chain by 3% - Wrap is calling for improved packaging design to maximise recycled content, while ensuring there is no increase in carbon impact. And it's a goal that brands and retailers have already made strides toward.
For instance, Asda has reduced the glass needed in its bottles for sauces, pickles, spices and wine by 2,781 tonnes; Heinz has cut down on the thickness of its easy-open can ends, saving 1,400 tonnes of steel; Morrisons has incorporated recycled content into its mince and sausage trays; and M&S has switched from plastic trays to 'skin packs' to preserve its meat products, to name but a few initiatives. Furthermore, thanks to advances in digital tech, producers can squeeze their brand marketing on to a smaller area of packaging.
"Technology such as QR codes can link consumers to websites, giving the story behind the product, miles travelled by the pack, product source information or even recipe information if it's a food pack," says Foster. "This not only saves space, meaning less material used, but also gives brands and retailers an opportunity to share their sustainability story with consumers."
Yet as brands and producers make changes to assume their responsibility higher up the supply chain, are consumers shirking their own?
Consumer engagement
"Ultimately, achieving a significant impact on reduction and recycling requires every player at every stage to get involved, including the packaging, retail and recycling industries, and collectively we have to take responsibility and work together to drive change," says Kevin Vyse, primary foods packaging technologist at M&S. "But consumers need to play their part, too. That's why we do a lot of consumer engagement through our Plan A programme."
Via this social initiative the retailer partnered with Somerset Waste Partnership in 2010, committing to an investment of £250,000 over five years to improve kerbside collections, allowing plastic bottles and cardboard to be added to weekly recycling collections, leading to an additional 14,600 tonnes being recycled in 2014.
Yet an "educational gap" persists with consumers who think their responsibility starts and ends with putting their packaging in the right bin, says Grant Montague of packaging research specialists PRS.
Despite this, more punitive schemes have been rejected in the UK, despite their success elsewhere in Europe and the US. A pilot rollout of PAYT (pay-as-you-throw), under which householders would have been charged variable rates for the collection of their waste depending on how much rubbish they left out on the kerb, fell on deaf ears with local authorities back in 2009.
Still, the idea continues to garner support from WasteWatch, a group allied with the Keep Britain Tidy project, which argues it would ensure the public take more responsibility for their own waste.
As for what the industry can expect from the re-drafted Circular Economy package is a subject of ongoing debate. For Roberto Ferrigno, director at Brussels-based political consultancy firm Lumina Consult, it is an opportunity to tone down the "dramatic increases" in recycling targets that had featured in the original, and build in more input from stakeholders.
Searle agrees, and believes the industry should hope for a more "holistic" approach in the re-draft with less fixation on recycling, a clarification of EPR schemes and a need to reiterate a sense of shared responsibility.
Because, Searle adds, "if we want to carry on living the way we are, each of us has to do more to preserve materials." And that will have to include examining the responsibilities of consumers alongside those of industry.
why packaging stops food waste
Fruit and veg displayed in earthy rural boxes, conjuring up village markets and homemade fare, are all the rage at the moment. Just take a look at Lidl's recent advertising campaign, which showed a more affluent consumer drawn to its produce, simply because it was disguised as unpackaged fare from a London market stall.
But, in fact, packaged perishables can last about four times as long as those dumped in a farmer's crate, according to Kevin Vyse, primary foods packaging technologist at M&S.
"We spend a huge amount of time seeking the best ways of keeping food fresher for longer, especially in food groups such as fruit, veg and protein," he says. "Packaging allows these primary foods to survive the food chain, being stocked on a shop shelf and to get to the consumer's home in excellent condition."
Vyse insists M&S "simply couldn't do this without well-engineered packaging." As an example, he says a "cucumber in packaging will last up to 14 days, unpacked three days. It may be nice to see potatoes displayed in 'earthy' rural boxes but they last three days longer in bags."
Indeed far from being only a source of waste, the right packaging can be part of the solution.
According to Wrap, 4.2 million tonnes of food and drink are thrown away by households each year, and getting consumers educated about the importance of packaging is vital. And innovations in technology are helping to take this one step further, such as the Freshlife range set to be showcased at this year's Fruit Logistica event by manufacturer Coveris. Its moisture-controlled-packaging, uses laser technology to regulate moisture and so delays the onset of toughening in a product. It has already been picked up by Tesco to extend the shelf life of its asparagus by two days .
So do consumers understand the need for packaging? "There is definitely more to be done and we need to continue our education efforts - simply to get our message out to the wider world," says Tony Foster of DS Smith, who points to campaigns such as 'The good, the bad and the spudly,' launched by Incpen, in boosting awareness.
Published on YouTube, it uses cartoon animation to mourn the loss of the five million potatoes thrown in the bin each day - and shows how packaging can go a long way towards saving them.
The future of packaging?
The future of sustainable packaging is bright, as these concepts from Swedish product design studio Tomorrow Machine, working on behalf of research company Innventia, prove. In these three examples from its This Too Shall Pass collection, the package and its contents are designed to work in symbiosis, deteriorating at the same rate.
Sustainable smooothies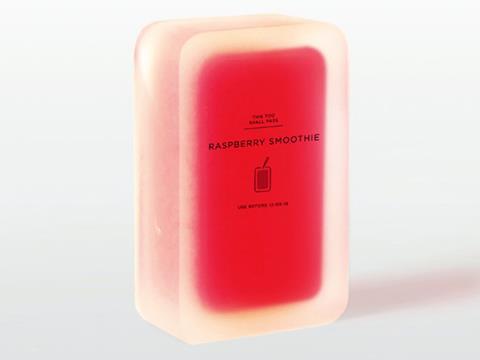 Gel of the agar-agar seaweed and water are the only components used to make this. To open it you pick at the top; the pack will then wither at the same rate as its content. It is made for drinks that have a short lifespan and need to be refrigerated - fresh juice, smoothies and cream are a few examples. It will react to its environment, such as excessive heat.
Revolutionary rice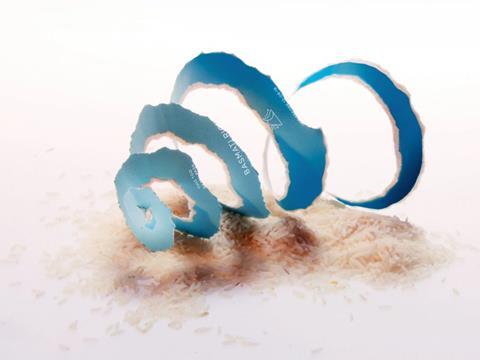 This package is made of biodegradable beeswax, designed to peel away like a fruit and reveal its contents. It's designed particularly to transport dry goods, such as grains and rice. It prevents the need for larger packs, which are often prone to wastage, and can instead be designed to contain single portions with zero waste and reduced environmental impact.
Eco-friendly oils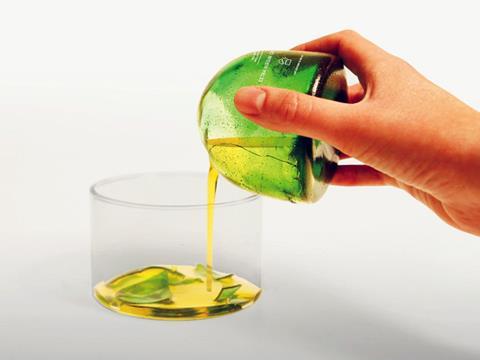 A package made of caramelised sugar, coated with wax, which is designed for oil-based foods, and for single use only. To open, it simply needs to be cracked like an egg. When the contents are no longer protected, either when opened or when in contact with water, both they and the package will melt together at the same rate, therefore working in sync- as the designers intended.