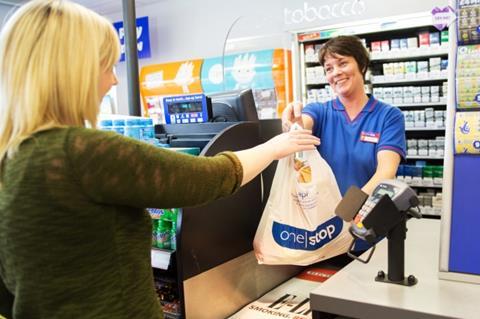 The government said it was stepping up the fight against single-use plastics today, confirming the plastic carrier bag charge will be extended to all retailers from April next year.
The charge will also increase from 5p to 10p, in line with moves already brought in by the supermarkets.
The government said since charges were introduced in 2015 it had prevented billions of plastic bags being sold and ending up in the ocean and environment. The latest statistics show the levy, which currently applies to any retailer employing 250 or more people, had led to a 95% cut in plastic bag sales in major supermarkets since it was introduced in 2015.
Today's announcement comes with the focus on plastic due to be ramped up. Campaigner Hugh Fearnley-Whittingstall is set to return for a second series of his War on Plastic programme on BBC1 tomorrow.
There have been fears expressed that the Covid-19 outbreak has seen the industry take its foot off the pedal on plastic reduction.
However, environment secretary George Eustice said the UK was already a world leader in taking bags out of circulation.
Earlier this month, Morrisons and Waitrose announced plans to scrap all plastic bags from their checkouts, with pressure growing on other supermarkets to follow suit.
"We have all seen the devastating impact plastic bags have on the oceans and on precious marine wildlife, which is why we are taking bold and ambitious action to tackle this issue head-on," said Eustice.
"The UK is already a world leader in this global effort, and our carrier bag charge has been hugely successful in taking billions of harmful plastic bags out of circulation. But we want to go further by extending this to all retailers so we can continue to cut unnecessary waste and build back greener.
"I hope our pioneering track record on single-use plastics will inspire many more countries to follow suit, so we can take on plastic waste together and implement lasting change."
The government said as a result of the carrier bag charge, the average person in England now bought just four bags a year from the main supermarkets, compared with 140 in 2014.
It said by extending the charge to all retailers, ministers wanted to see bag usage cut significantly in small shops as well, with customers incentivised to use long-life bags made from more sustainable and environmentally friendly materials.
"It's encouraging to see the government take further steps in reducing our reliance on single-use plastic bags," said Dr Laura Foster, head of clean seas at the Marine Conservation Society.
"Since the introduction of the 5p carrier bag charge we've seen a more than 60% drop in the number of plastic bags on the UK's beaches.
"It's so important we reduce our reliance on single-use items, and we move to a culture of reuse. This increased charge, and extending to all retailers, will help remind people of everyday, simple changes they can make to help the marine environment."
The latest moves were the subject of a public consultation last year, with the vast majority of respondents welcoming the move.
The Association of Convenience Stores welcomed the move and pointed out that it has been calling for the extension since 2015.
"Charging for plastic bags is a simple and effective policy that helps to raise money for local and environmental good causes, as well as drastically reducing the impact of plastic waste generated from bags," said ACS chief executive James Lowman.
"A universal charge will ensure that there is no confusion about which stores do and don't have to take part, and is a popular measure with retailers. We will work with Defra on ensuring that the extension of the charge in April is communicated to both retailers and consumers."
Figures from the ACS Voice of Local Shops survey show that around half of convenience stores already voluntarily charge for plastic bags.
The government is also bringing in a ban on the supply of plastic straws, stirrers and single-use containers in October and plans a tax on single-use plastic from April 2022.