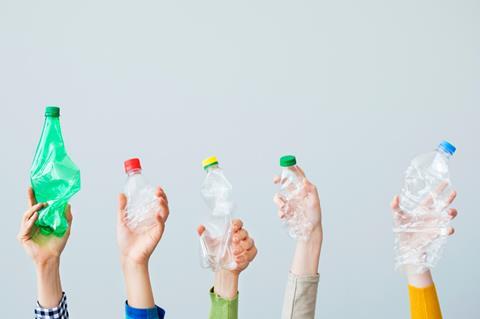 Recycle Week is an important symbol, but one week isn't enough for an issue of this magnitude. Everyone in the food and drinks industry should be thinking about sustainability 365 days of the year. Recycle Week is a useful time, however, to take stock and consider whether – as individuals, businesses and industry – we are doing enough to meet the enormous challenges we face.
In the past few weeks we have seen significant announcements across the industry that further demonstrate what sustainability means to business. Whether that is targeting carbon emissions, improving packaging or changing consumer behaviours, one thing is clear: environmental action needs to be sustainable and the right thing to do in the long term.
As a society, we need to fundamentally transform our relationship with plastic. Effective deposit return schemes and similar initiatives are important to drive behaviour change in UK recycling. However, this is about more than changing consumer habits.
Across the industry there are significant barriers to change. We have seen the cost of plastic packaging recovery notes (PRN) more than triple in the past 12 months, and the disparity between the supply of recycled plastic and the demand for the material continues to be a significant barrier to change. Investment in research, development and progress is often dampened when costs rise.
Wrap UK, responsible for managing the 'Recycle Now' campaign this week, said '2019 is the year of standing up for what you believe in and doing something about it. This year we've been taking recycling into our own hands.' We agree, and we believe that we, along with our peers in the food and drink industry, can and must lead the way.
Our ambition to be sustainable is part of our Mizu To Ikiru business purpose. By 2025 all of our bottles will be 100% recyclable, with at least 50% of the plastic in our bottles made from recycled content. It is our goal that by 2030 our bottles are 100% sustainable, containing no virgin plastic from fossil fuels.
Change and leadership bring significant challenges. As an industry we need to work together to face obstacles in a consistent and considered manner. We need investment and commitment from all stakeholders – including companies (big and small), policymakers and consumers – to overcome them. In particular, we need to work out how to ensure supply meets the growing demand for recycled plastic and increase the affordable supply of sustainable materials and resources beyond plastic.
We know our ambition to remove virgin plastic made from fossil fuels from our primary packaging is an enormous undertaking. It is not one we will achieve alone.
However, we are growing greener every day, and this Recycle Week we ask all suppliers and partners in the industry to work with us and build sustainability into their purpose. Not just this week, but every week.