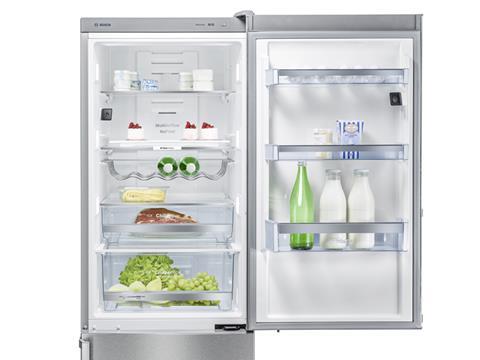 Sainsbury's is giving out smart fridges to customers as part of its drive to curb food waste.

The supermarket has partnered with Bosch to give out fridges with built-in cameras to 20 families in Swadlincote, Derbyshire, where it is testing out ideas for its Waste less, Save more initiative.

The fridges can send pictures of the contents of their shelves and doors to shoppers' smartphones while they are in the supermarket. The fridges, which have two cameras installed, were launched by Bosch last month and usually retail at £899. The families involved will be able to keep the fridges after the initial six-month trial period.

The move will aim to cut the number of customers who buy too much produce because they can't remember what they have at home. The retailer will work with Wrap to monitor the results of the trial.

A survey carried out by Sainsbury's in April showed 70% of UK adults checked their fridges before a food shop. But 40% of the 1,000 people surveyed forgot what they needed by the time they arrived at the supermarket. The survey also found a quarter of households waste £235 worth of food every year as a result of buying products they already had in their fridge at home.

Paul Crewe, head of sustainability at Sainsbury's, said there was a risk of customers "over-buying" food. Giving shoppers an "instant view" of their fridges could help reduce the 4.2 million tonnes of food wasted every year in the UK, he added.

Fruit is the most commonly over-bought item - 38% of people admitted to the habit in the survey - followed by vegetables, milk, cheese and eggs.

Sainsbury's Waste less, Save more initiative aims to cut food waste by 50% over 12 months by changing shopping habits and making use of leftovers.