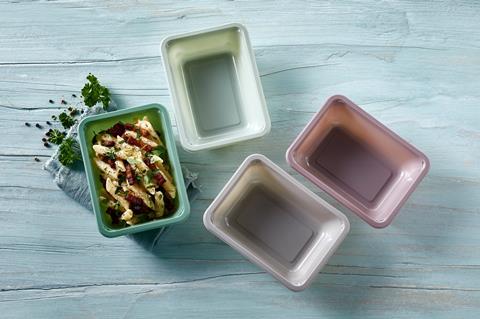 Sainsbury's is set to become the first retailer to replace black plastic trays from all its chilled ready meals with a recyclable alternative.

The new trays in a range of colours have been introduced this week on Sainsbury's most popular ready meals, with black plastic to be replaced in all ready meals by November.

Sainsbury's is now using natural CPET, a form of recyclable plastic. The new material is easily detectable at recycling plants across the UK. The retailers said the switch would remove 1,003 metric tonnes of hard-to-recycle plastic each year.

"This is a fantastic development in sustainable packaging innovation and we're proud to be introducing our new, fully recyclable ready meal trays this week," said Judith Batchelar, director of Sainsbury's brand.

"Our commitment to reducing our impact on the environment is ongoing and the announcement today is in addition to the wider steps we have taken as a business this year."

Meanwhile, Waitrose has replaced black plastic trays on five Indian ready meals with new trays made predominantly from mixed-coloured PET bottles and trays.

Waitrose said the new packaging was unlikely to be the same twice, varying from pink and red tones to shades of green and blue. It will mean the packaging might be a different colour each time it is produced, depending on what is being recycled.

The latest packaging innovation has been produced for the supermarket chain by Farch, and helps it move closer to removing all black plastic by the end of the year.

"This is an exciting example of packaging innovation that helps us move even more ready meals out of hard-to-recycle black plastic into a rainbow of recycled content that can be recycled again and again," said Waitrose packaging manager Karen Graley.