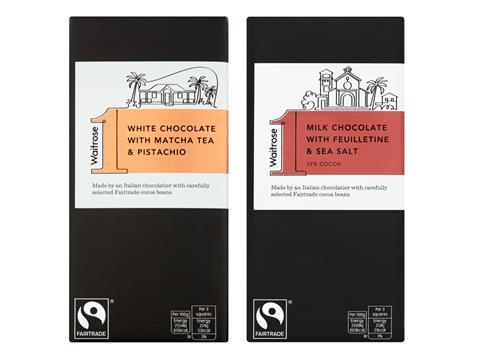 Waitrose has committed to making all cocoa used in its own-brand confectionery Fairtrade by the end of the year.
Its 100-strong range will push its annual Fairtrade investment up by $60k (£46k) to around $3.3m (£2.53m), and help improve living standards for cocoa farmers.
The upmarket grocer made the announcement as part of the Fairtrade Foundation's Fairtrade Fortnight, which takes place for the next two weeks to highlight the challenges cocoa farmers face to earn enough to take them above the poverty line.
The pledge builds on the sustainability-focused steps Waitrose has already made, such as being the first UK supermarket to sell Fairtrade bananas exclusively, as well as offering entirely Fairtrade items across its own-brand tea, black tea, speciality sugars, block chocolate and coffee served in its cafés.
"Responsible sourcing is something both we and our customers care deeply about," said Waitrose confectionery buyer Lizzie Sutcliffe. "Given the popularity of our own-brand confectionery and Fairtrade products, this commitment is a natural fit. The typical income cocoa farmers currently earn means they often struggle to cover their production costs, even before affording essentials like food, clothing, education and healthcare. By ensuring cocoa in our own-label confectionery is Fairtrade certified and through the support of our customers, we can improve living standards for many cocoa farming communities."
Fairtrade Foundation CEO Michael Gidney added: "The cocoa industry faces considerable challenges, with low prices, farmer poverty, lack of investment and pressure from climate change threatening the long-term sustainability of the industry. Waitrose's excellent commitment will help many more cocoa farmers improve their livelihoods and see a better return for their hard work."