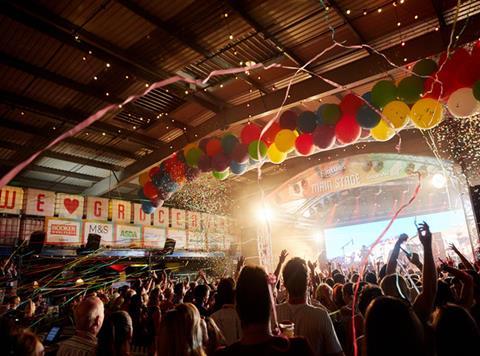 Following the success of the inaugural Barcode Festival in June, GroceryAid has confirmed it will run the event again next year on 4 July.

This year's event raised £250k, with 1,600 grocery colleagues enjoying 10 hours of music, food, drink and demos.

GroceryAid said the guest list included a much younger crowd than the charity is used to hosting, and 54% of attendees were female. It has hailed Barcode as "an inclusive, ground-breaking event for our industry".

The festival combined street food, 15 bars provided by various BWS brands, activations from over 40 sponsors, and headline acts Kaiser Chiefs, Sigma and Greg James.

"There is still a real buzz around the industry in the aftermath of Barcode Festival and we're incredibly excited to confirm its return in 2019," said GroceryAid chief executive Steve Barnes.

"Barcode is truly an event for everyone, as shown in the fact we had 100 different supporting companies present and such a diverse range of colleagues joining us. We've already started planning how we can make Barcode even bigger for next year and, ultimately, raise more funds for colleagues in need."

Next year's event will once again be held at Hawker House in London, which has a capacity of 1,800.

For sponsorship and ticket opportunities, email events@groceryaid.org.uk or call 01252 875925.