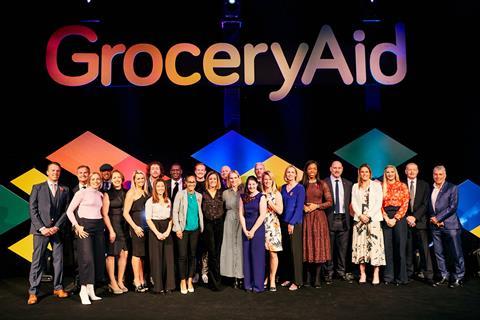 Thousands of colleagues across the grocery industry have raised a record amount at this year's annual GroceryAid Sporting Lunch.

In its 54th year, the charity event brought in £635,347 at a ceremony held at London's Grosvenor House Hotel. Last year, the lunch raised £515,000, the first time GroceryAid had hit the half-a-million mark.

More than 1,200 colleagues from across 200 companies in grocery and fmcg attended the lunch, another record for the event.

Broadcaster John Inverdale was this year joined by Sky Sports F1 reporter Natalie Pinkham in hosting the event. Pinkham conducted on-stage interviews with former Formula 1 racing driver David Coulthard and royal equestrian Zara Tindall.

Cricketer Graeme Swann and rugby player Lawrence Dallaglio rounded off the entertainment, chatting about everything from England's triumph in the Cricket World Cup to Strictly Come Dancing.

Twenty-eight sporting stars from all disciplines also joined guests throughout the lunch to tell stories, pose for selfies and, in some cases, pass around gold medals.

Outgoing GroceryAid president Andrew Higginson said: "The Sporting Lunch is a highlight of GroceryAid's calendar, and I am delighted that we've raised a record total of £635,000. The charity provides essential support to colleagues when they need it most and thousands more will now be able to benefit as a result of the industry's generosity today."

On the day, Higginson introduced a new film showing how the charity helped a colleague struggling with mental health issues. The total raised on the day would provide similar counselling for more than 2,100 colleagues, GroceryAid added.

GroceryAid CEO Steve Barnes added: "We are delighted with the support we are given from across the industry and the sporting lunch was a great example of this, with a record number of companies attending. The fantastic sum raised will help make a real difference to colleagues experiencing difficulty."

The 2020 GroceryAid Sporting Lunch will be held on Friday 13 November at the Grosvenor House Hotel.

GroceryAid is currently supporting grocery colleagues affected by the floods in the north of England.

Financial, emotional and legal support can be accessed through the 24/7 helpline for those in crisis.

Find out more at groceryaid.org.uk or call 08088 021 122.