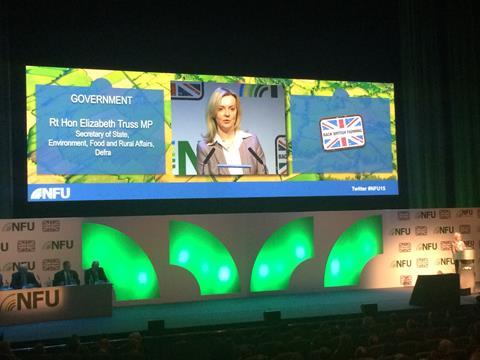 We're in an election year, so there's no escaping politicians at the moment.
Nowhere was this brought home to me more than at the National Farmers Union conference in Birmingham this week, which boasted not one but two politicians as keynote speakers: EU Commissioner Phil Hogan and UK environment secretary Liz Truss.
Both delivered important (if not particularly new) messages to farmers about Britain's self-sufficiency, the role of the Groceries Code Adjudicator and the opportunities and challenges arising from the removal of EU quotas later this spring.
Politicians are important power players in farming, so it was also useful to hear from Labour's agriculture spokesman Huw Irranca-Davies and UKIP's Stuart Agnew elsewhere during the conference, plus Plaid Cymru's Elfyn Llwyd and Liberal Democrat Dan Rogerson. Again, surprises were few and far between – Labour isn't keen on the badger cull, it turns out, and UKIP isn't all that keen on the EU – but it was nevertheless valuable to hear key policy positions articulated and challenged.
Yet, at the same time, I couldn't help but wonder if all the political talk could have benefited from an injection of commercial reality every now and again – in the form of input from retailers and food manufacturers.
The retailers were there, of course (Tesco's Tom Hind was on a panel talking about future proofing against volatility, for example, while M&S's head of agriculture Steve McLean spoke on the same subject). But there was nothing as attention-grabbing as Phil Clarke's post-Horsegate mea culpa at the NFU conference in 2013 or even Justin King's swan song in Birmingham last year.
As far as major food manufacturers were concerned, the programme boasted contributions from the likes of Dunbia and British Sugar but again nothing to rival the limelight given to Truss and Hogan.
In light of the supermarket sector's recent travails – and high-profile personnel changes at senior level – it's perhaps no surprise their figureheads kept a lower profile this year.
I am therefore hoping this is no more than a temporary blip, and not a reflection of growing disconnect between farmers and retailers. Strong supply chain relationships are just as vital to the UK's self-sufficiency and food security as politicians' pledges – and will need to be cultivated long after the general election in May.