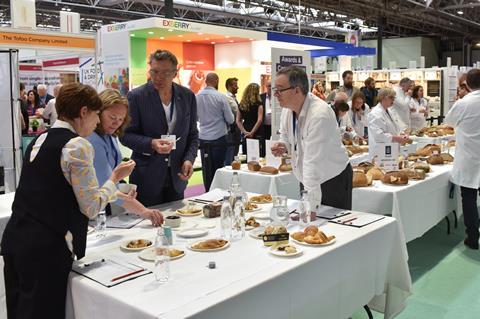 A tomato & beetroot gazpacho, a dill mustard sauce and a black pudding were among the winners of the first-ever Farm Shop & Deli Show Product Awards.
A key aim of the new award scheme was to showcase quality products sold in farm shops, delis and specialist food retailers. Of the hundred of products entered, 27 attained the highest level gold award, with some suppliers walking away with more than one.
Edge & Son took four golds in the meat category for products including Nduja Smoked Spreadable Cured Sausage, while Beckford's Rum and Goosnargh Gin each won two golds.
Dozens of other products impressed the panels of expert judges, with 62 winning silver awards and 74 given bronze.
The judging took place last week at the Farm Shop & Deli Show at the NEC, Birmingham. Industry experts including retailers, suppliers and food developers looked at products across six categories – meat, condiments, bakery, beverages, confectionery and preserves. Judging criteria included appearance, taste, texture, aroma and value for money.
"Covid-19 amplified demand for locally sourced, high-quality products and in creating these awards we hope to shine a spotlight on the fantastic producers we have in the UK and their unwavering dedication to excellence," said Andrew Reed, MD for events & exhibitions at Farm Shop & Deli Show organiser William Reed, which publishes The Grocer.
Here is the full list of gold winners.
Beverages
Beckford's Rum – Euphemia Honey Whisky
Beckford's Rum – Maroon Rum
Brindisa – Tomato & Beetroot Gazpacho
Goosnargh Gin – Chapter Two: Dark Skies Gin
Goosnargh Gin – Chapter Six: Dappled Light Gin
Tayport Distillery – 1992 Raspberry Liqueur
The Ribble Valley Gin Company – Country Market Gin
Wye Valley Meadery – Traditional Mead
Condiments
The Tracklement Company – Dill Mustard Sauce
Blackthorn Salt – Scottish Sea Salt Flakes
Yarty Cordials – 'B' Black Garlic Vinegar
Confectionery
Glenilen Farm – Raspberry Yoghurt Jar
Love Corn – Chocolate Crunchy Corn: Milk Chocolate & Sea Salt
Over the Moo – Ice Cream Mini Bites: Caramel
Meat
Top Meat – Japanese-Style Duck with Oranges & Ginger
Edge & Son – Fennel & Aleppo Pepper Saucisse Sèche
Edge & Son – Nduja Smoked Spreadable Cured Sausage
Edge & Son – Air-Dried Ham 'Jambon de by Ours': Culatello Style
Edge & Son – Boerewors
The Fruit Pig Company – Fresh Blood Black Pudding
Suffolk Salami – Suffolk Coppa
From Our Farm – Tomato & Basil Biltong
The Original Baker – Steak & Ale Pie
Tim Potter Son & Daughter Family Butchers – Country Pork Sausages
Ragley Estate Meats – Honey Smoke Sausage
Preserves
Single Variety Co – Passionfruit Preserve
Heart & Soul Nuts – Extra Roast Crunchy Peanut Butter
For the full list of silver and bronze award winners visit the Farm Shop & Deli Show awards website.