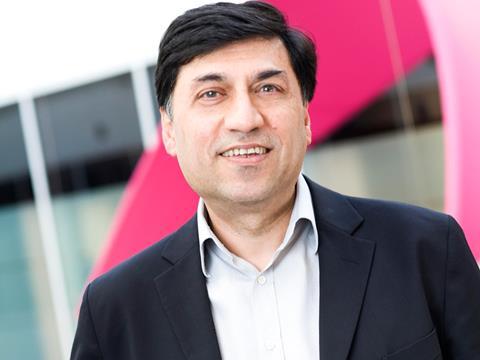 Reckitt Benckiser (RB) CEO Rakesh Kapoor was awarded a bumper £23.2m pay package last year as share awards worth more than £18m drove up his annual pay.
Kapoor's overall pay award rose from £12.8m in 2014 to £23.2m in 2015 after a year of "excellent growth and outperformance", according to chair of its remuneration committee Judy Sprieser.
Kapoor's base salary rose 3% to £891k during the year, but his pay award was inflated by large increases in his annual bonus and bumper share awards.
His annual bonus rose 42.5% to £3.82m after achieving a performance related multiple of 3.57 times his target bonus of 120% of base salary.
The bonus award reflect "excellent 2015 growth and outperformance in both net revenue and net income", RB's annual report said.
During the year net revenue growth was 6%, the maximum growth target, and net income growth was up 15%, which exceeded the maximum growth target.
RB's compound annual growth of 8.1% between 2013 and 2015 saw 80% of Kapoor's 2013 share options vest, worth £18.2m after significant share price growth over than period. This figure more than doubled his £8.94m share award from 2014.
Around two-thirds of the value of Kapoor's vesting shares is due to share price growth.
RB said: "Over this three year performance period, the sustained outperformance of RB's core underlying financial metrics has delivered an additional £20.8bn in value to our shareholders over the last three years… This significant value generated for shareholders over the last three years is therefore reflected in the value of the LTIP vesting."
The bumper pay packet will shoot Kapoor up the league table of the best paid FTSE bosses.
Last year he was the seventh best paid boss in the FTSE 100, but his £23.2m pay award in 2015 would put him behind only WPP CEO Martin Sorrell's pay package of £43m going on last year's figures.
Reckitt CFO Adrian Hennah saw his pay award almost double from £3.3m to £6.4m after his long term incentive plan share awards rose from £1.3m to £3.8m.
Reckitt has previously come under pressure from shareholders over its executive pay awards. Last year more than 17% of shareholders voted against the remuneration report.
The company said it has again reviewed its remuneration policy after discussions with a number of major shareholders.
Reckitt is proposing to tweak the terms of its share based awards – part of the 95% of the CEO's remuneration it says is performance-based.
The CEO is required to hold 600,000 shares and the CFO 200,000 shares within eight years of appointment, which currently represent more than 40x salary and 20x salary respectively. Alongside the current shareholding requirements, RB is introducing an additional two year holding period in respect of unvested share option and performance share awards upon cessation of employment.