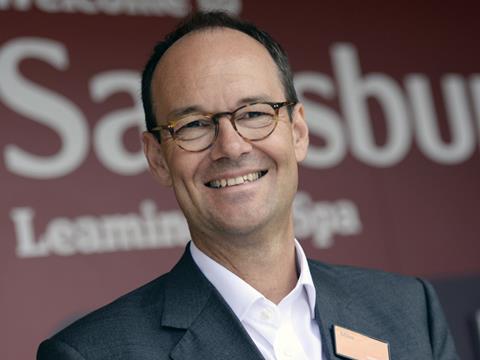 Sainsbury's (SBRY) boss Mike Coupe's pay packet has increased 65% to £2.8m in his first full year as CEO thanks to an annual bonus of almost £800k despite profits at the supermarket slumping 14% last year.
Coupe received a 1.8% rise in his base salary to £916k in the year to 12 March, with pension contributions of £275k and benefits of £38k, including a cash car allowance and private medical cover, according to the just published annual report.
A bonus of £767k was awarded to the Sainsbury's boss – 76% of his potential pay out – as a result of the supermarkets beating annual sales and profit targets of £25bn and £525m respectively. It stands in contrast to the previous year when no bonus was paid to the management team after the retailer plunged to a loss of £72m.
Despite significantly outperforming the goals, Sainsbury's underlying pre-tax profits declined by 13.8% to £587m in 2015/16, underlying group sales fell 1.1% to £25.8bn and like-for-like sales were negative for the second year running.
However, profits did comfortably beat analyst expectations, market share was maintained at 16.5% and the supermarket returned to positive like-for-like growth in the fourth quarter.
"The [remuneration] committee acknowledges the absolute year-on-year decline in profit and like-for-like sales, but is comfortable that the targets were robustly set, particularly when the broader context of the retail market and Sainsbury's outperformance of our main supermarket peers is considered," the annual report said.
Coupe also scored a shares bonus worth £806k, which will not vest for two years, taking his total pay package to £2.8m, compared with annualised pay of £1.7m in the previous year and actual pay of £1.5m which reflects his role as CEO starting part way through the year on 9 July 2014.
His salary is dwarfed by predecessor Justin King, who took home £3.9m in 2013/14 and £4.4m in the year before that. Rival boss Dave Lewis at Tesco was paid total of £4.63m last year, which included a £3.3m golden handshake for leaving Unilever and a £500,000 rise in base salary to £1.3m.
Mary Harris, chairman of the Sainsbury's remuneration committee, said: "As well as making progress against our strategic objectives, we have also outperformed our main supermarket peers and maintained market share in a sector facing competitive pricing strategies and deflation."
Sainsbury's CFO John Rogers, who was instrumental in its pursuit of Argos owner Home Retail Group, also saw an increase in his base salary to £675k during the year to reflect the expansion of his role. Rogers is now also responsible for group strategy, online, Netto and new business development.
After a bonus of £472k, 78% of the possible amount available, and pension, benefits and shares, his total pay came in at £1.8m, compared with £1m in 2014/15.
Coupe and Rogers will also get a 1.5% hike in salary for the current financial year to take their respective base pay to £929k and £685k.