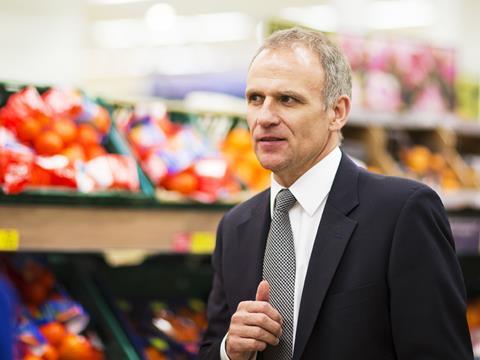 The annual pay packet of Tesco (TSCO) CEO Dave Lewis rose 17.5% last year to £4.9m as the award of shares worth £971k boosted his earnings.
Tesco's annual report, published this morning, showed Lewis' annual base salary remained flat at £1.25m. His yearly fixed pay edged down from £1.8m to £1.6m as his allowance for benefits fell from £223k to £65k.
Despite Tesco's resurgence, his performance-based annual bonus also fell 3.6% to £2.3m.
Lewis achieved 72.8% of his total possible annual bonus, measured on objectives including sales growth, operating profits and obtaining CMA clearance of the Booker merger on the "best terms".
Tesco's group operating profits before exceptional items for the year was close to the exec team's stretch target of £1.66bn, coming in at £1.61m.
Sales growth exceeded the target of £50.06bn as the supermarket achieved sales of £50.15bn in the financial year, but this figure was comfortably short of the stretch target of £50.56bn, meaning the exec team received just 29.6% of the 50% bonus weighted on sales growth.
The overall rise in Lewis' annual pay packet was entirely attributable to the £971k award under the grocer's long-term performance share plan, having received no award under the scheme in 2016/17.
Share awards
This year was the first Lewis and CFO Alan Stewart were eligible for vesting share awards as their first awards made in 2015/16 vest during the current year.
Tesco failed to hit even the minimum measure of its share price growth target under the share scheme – which is worth 70% of the total annual awards.
However, it fully achieved the stretch targets in terms of cash generation – worth 30% of the award – meaning Lewis received 472,621 shares to vest, worth £971k.
The overall pay packet of CFO Alan Stewart also rose 23.8% to £2.8m due to his first award of £530k under the long-term performance share plan scheme.
The basic pay of Lewis and Steward will remain unchanged in 2018/19.
Charles Wilson's salary
Incoming exec director Charles Wilson, the former Booker CEO, will receive a base salary of £575k as part of a minimum annual pay deal of £749k and a possible pay packet of £3.2m if every growth target is met to the maximum extent.
Lewis could net a potential pay packet of £8.2m if he and Tesco hit every maximum target.