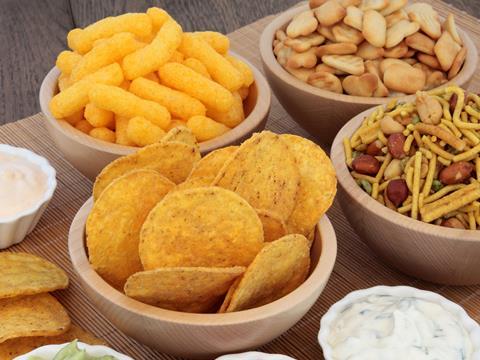 Publishing: 27th January
Contact: Amy North (amy.north@thegrocer.co.uk)
1. Consumer research
With the help of Harris Interactive, we quiz consumers on their eating habits. How often do we snack and on what? Are Brits turning to healthier alternatives such as nuts, meat and baked goods rather than traditional fried crisps?
2. Meet the Buyers
Everyone knows that it's not just what you know that matters in grocery… it's who you know. We will be speaking to bagged snacks buyers from across the major retailers to find out what makes them tick and how they see the market developing over the coming year.
3. Top 10 Global Innovations
We've teamed up with Mintel again to pick the best innovation from around the world in snacks. So which products have made our Top 10 and which trends have driven their development?
4. Advertising
Advertising insights agency Ebiquity has crunched the numbers on bagged snacks' biggest advertisers. So who's spending the most? What are they spending on? How effective are their ads?
5. Meat snacks
Snacking isn't just about crisps and biscuits. Protein is a booming trend and meat snacks are muscling in on the market. So, who's taking advantage of this trend? Which products are flying?
6. Promotions
Bagged snacks are heavily promoted and it's starting to take its toll on the premium end of the market designed to add value. So, who's being affected by this? Which brands are being drawn into a price war? And who's abstaining and why?
7. Bagged snacks bestsellers
Exclusive sales figures from IRI reveal who's hot and who's not in bagged snacks. Our analysis will reveal the reasons behind the wins and losses or the markets movers and shakers over the past year and look at what the year ahead holds the market.
8. Healthy snacks
From broccoli crisps to protein balls, there has been a host of healthier bagged snacks hitting grocery stores this year. We pick our favourites from the weird and wonderful alternatives to crisps looking at those made from vegetables, seeds and superfoods.
9. Innovations
With the help of IRI, we investigate which has been the top-selling NPD in savoury snacks including popcorn, crisps, baked snacks, meat snacks and nuts.
10. Top of the popcorn
Popcorn is flying off the shelves. So how has this cinema snack gone mainstream in the mults? Which brands are benefitting from this?