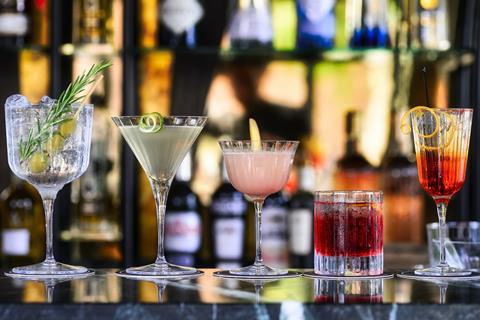 Publishing: 4 November 2023
Advertising deadline: 19 October 2023
Submissions deadline: 13 October 2023
FEATURE ONE
By James Beeson james.beeson@thegrocer.co.uk
Canned cocktails are on the rise. With sales of cocktails surging in UK pubs and bars, recent months have seen several high-profile launches of canned cocktails from the likes of BrewDog, Funkin, Absolut and Ellie Goulding's brand Served, which Heineken has recently invested in. What's driving all this? How are RTD cocktails performing at the tills? How is it impacting the rest of the off-trade booze market? And what other opportunities does this present – could we see a rise in shandies from beer brands or bellinis from Prosecco brands, for example?
ABV and formats: Many recently launched canned cocktails have packed quite a punch, with some containing as much as 14% abv (compared to a market average of around 5% abv). This feature will explore the factors driving this, as well as the packaging formats (from 250ml cans to larger multi-serve options) brands are putting their products in.
Merchandising and promotions: This feature will also explore how brands and retailers are promoting and presenting different types of alcoholic drinks in store. For example, which products are winning prime chiller space and how is this changing?
Beer, wine and spirits: The rise in canned cocktail launches suggests that producers are banking on drinkers of other alcoholic drinks switching to these products from drinks such as beer and wine. What evidence is there that drinkers are switching?
Why not just make your own? This feature will also explore the types of occasions that consumers are drinking canned cocktails – is it primarily when they're out and about (days at the beach, picnics, festivals etc) are they being drank at home? And how are unmixed spirits performing?
Innovations: New alcoholic drinks (ideally RTD cocktails and beer/wine/spirits) that have ideally not appeared in The Grocer before. Please supply launch date and RSP, and a hi-res picture of each.
FEATURE TWO

By Daniel Selwood daniel.selwood@thegrocer.co.uk
Booze brands have been getting in hot water with the Advertising Standards Authority lately. Camden Town was ordered to axe 'playful and childlike' ads for its beers after the ASA ruled that they could appeal to kids. Complaints about Global Brands enlisting influencer Charly Anne Collard to promote Corky's Vodka were upheld. AU Vodka got its wrists rapped for online ads that linked its products to illicit drugs and threatening behaviour.
What are the common pitfalls of booze advertising? How can they be avoided?
AU has since called for an overhaul of ASA's rules, claiming they are unclear. Does this complaint hold water? Should the rules be changed? How?
What are the best recent examples of booze ads that have caught consumer attention, driven sales and not fallen foul of the ASA?
Influencers: This boxout will explore how brands are using social media influencers to reach consumers, which influencers they're using and what rules they have to be wary of when marketing their products on social media.
Campaigns: We will profile four booze campaigns that have had complaints made about them to the ASA in the past year, ideally two that have had complains upheld and two that were vindicated