Sensing blood, Radio 4 Today programme presenter James Naughtie went in for the kill. In a savage attack on Asda corporate affairs director Sian Jarvis in October 2012, he declared it was "absolute rubbish" that junk food piled high at supermarket checkouts was about free choice.

"You try to tempt people - that is your job," he proclaimed, pouncing on Jarvis's admission that just one in three of Asda's checkouts were "guilt-free" - jargon Jarvis picked up during her time as director general of communications at the Department of Health.

Whether her subsequent departure from Asda three months later was a direct result of the now infamous interview is disputed, but there is no doubt Naughtie's attack kicked up a storm elsewhere.

So forceful were calls from campaigners and the public to ditch confectionery at supermarket checkouts in the wake of the programme that the government felt obliged to act. Four weeks later, the DH touted plans for "guilt-free" checkouts. It wasn't to be. Proposals for an industry code of practice in July 2013 fell apart that same month when then health minister Anna Soubry ruled out any government clampdown.

Then, in October 2013, her replacement, Jane Ellison, warned retailers' guilt lanes were back on the agenda, with retailers urged to sign up to a new voluntary agreement under the Responsibility Deal to regulate checkouts in January 2014.

But those plans collapsed when retailers walked away from the negotiating table. Retailers would have "to take a lead with individual initiatives" for the time being, the DH concluded, a position reiterated by Ellison in February this year.

So how have supermarkets evolved their checkout offers? Who's taken a lead? Who's holding back? What impact have new initiatives had on sales and profits? And is a change in the law either likely or necessary?

Pressure

Though grocers are currently free of either a voluntary or a regulatory framework, it's not for want of trying on the part of campaigners.

This month the British Dietetic Association renewed calls for supermarkets to remove all "junk food" from stores as part of Dietitians Week, a campaign it has spearheaded alongside the Children's Food Campaign. Pass or fail cards were issued for the public to deliver verdicts in stores. It spread the word on Twitter via the hashtag #junkfreecheckouts.

Action on Sugar has also joined the fight. "Parents have tried to make healthy decisions for themselves and their children, they've managed to make it to the checkout without picking up big bags of sweets and crisps, and it catches them at the last minute," says campaign director Katherine Jenner. "It undermines their good intentions."
This ongoing pressure, and the issue regularly being splashed across front pages, has left grocers with little choice but to take steps to amend their own practices. But they vary considerably (see boxes p28/9).

The most significant moves have come from Lidl, Tesco and Aldi, in that order. All three committed to removing confectionery from checkouts across their entire store estate in 2014, a move that was praised by campaigners.

Tesco says it took the decision, which came into force on 1 January 2015, after two-thirds of its customers said removing confectionery from checkouts would help them make healthier choices.

"We knew removing sweets from our checkouts was something they wanted us to do," says a spokesman. "Customer feedback so far has been very positive, especially from parents."

Healthy snacks?

It hasn't all been plain sailing, of course. Tesco was left red-faced in March after a customer caught it selling Monster Munch, Mini Cheddars, Doritos and pork scratchings on its new 'healthy' checkout shelves.

"With the scale of change across our large store estate there have been a small number of instances where we've not got it right," the spokesman admits. "But we've followed up as soon as possible to rectify it."

Sainsbury's and The Co-operative Group have exempted small c-stores from their sweet-free policy. The latter has instead launched a Healthier Snacking range, which hit checkouts in March.

The 26-strong range includes some fairly wacky innovation, including Strawberry Brûlée Flavour Fruit and Nut Mix, Spiced Ginger Popcorn and Triple Berry Rice Cakes. So how have they been developed? The Co-op has adopted a flexible view of nutritional profiling based on customer feedback. "The products have been chosen by taking the definition of healthier across a variety of customer needs," explains healthy snacks buyer Kim Salmon.

So bestsellers like the Strawberry Brûlée Flavour Fruit and Nut Mix get a red traffic light for fat, saturates and sugar, but get a green light for salt, according to front-of-pack traffic-light labelling. By comparison, Monster Munch gets a red light for fat and salt but an amber for saturates and a green light for sugar. So according to front-of-pack traffic-light labelling the former qualify for checkouts at The Co-op due to the "natural health benefits" of their core ingredients of fruit and nuts, Salmon adds.

Morrisons has made a partial switch with one in five of its checkouts 'junk'-free, while Asda is sticking for the time being with one in three, according to the BRC. An Asda spokeswoman says: "We believe in customer choice, which is why we offer a range of different products at checkouts - batteries and magazines as well as toiletries and some treats."

Jenner rejects Asda's position. "They are shaping choices by having these as the only products available," she argues. "They are making a choice for us."

Fat profits

Jenner believes retailers are reluctant to ditch 'junk' food products because they are "high-profit, high-margin products. It's a quick extra expenditure. There is a reason why it's there."

She has a point. Checkouts account for 1% of store space, on average, but can generate up to 7% of sales, according to the EHI Retail Institute, offering sales productivity of £30,398 per sq m, seven times above the average for the entire store. And confectionery delivers average profit margins of 31.5%, miles ahead of the product average of 12.4%, the EHI found.

In convenience stores the impact is even greater, with till confectionery accounting for 15-20% of sales according to one c-store operator.

On the other hand, Salmon says that since its launch, The Co-op's healthier snacking range has "exceeded expectations" in sales, and the plan is to add further products in the next year.

Lidl also claims little cause for concern on the sales/profit front. It says the guilt-free checkouts introduced in a 10-week trial recorded 20% higher footfall than traditional ones, with 70% of customers backing the rollout.

Fintan Hastings, external affairs adviser at the BRC, is also quick to deny any financial consideration from those retailers failing to follow suit. "I don't think it's a financial issue at all," he says. "It's down to consumer demand and what people want."

Campaigners disagree. Malcolm Clark, co-ordinator of the Junk Free Checkouts campaign, points out that in conversations with Marks & Spencer, which packs checkout areas with all-butter shortbread, Percy Pigs and Walnut Whips, the retailer said its removal of confectionery "with child appeal" from "belted till points" (manned tills as opposed to self-service) in 2012 was "a big financial step".

M&S declined the opportunity for an interview, but a spokesman says it is "always looking for ways to help our customers make healthy choices".

As for Tesco, it appears to have taken the decision without calculating the cost. Asked whether making the switch had led to sacrificed sales, a spokesman said it was "currently reviewing the impact of the change and would look to share information in the future".

And while Tesco's gesture can be seen as an attempt to improve its image, Clark believes any hopes of a unilateral voluntary agreement among retailers will be stymied by commercial concerns.

"The failure of the voluntary pledge under the Responsibility Deal in 2014 was about protecting their profits and not wanting to do something that would be competitively disadvantageous," he says.

Certainly former Tesco CEO Philip Clarke mentioned commercial concerns as an obstacle to voluntary measures in an August 2013 letter to health secretary Jeremy Hunt, which was later released under the Freedom of Information Act.

He wrote that legislation may in fact be required to "level the playing field" after the supermarket reportedly claimed it had been put at a competitive disadvantage by signing up to a number of pledges to which its rivals were not signatories.

Sugar intake

Still, the debate continues. And although the issue resurfaced in December 2014, at the Responsibility Deal steering group, there's no sign of concrete progress, which campaigners say strengthens their calls for a ban on guilt lanes via a change in the law.

"Something much more powerful needs to be done to bring the stores in line," says Melanie Wakeman, a senior lecturer in applied physiology at Birmingham University who has lobbied supermarkets on the issue. "They are saying their profit is more important to them than our health. Over the past 12 months we've seen draft guidelines and recommendations that cut our sugar intake. It makes perfect sense to me that if we're being told to lower our intake of salt, fat and sugar we have to be enabled to do that."

What form that regulation may take is not clear, and will inevitably be debated at length, but Clark believes a merger of codes under the Committee of Advertising Practice (non-broadcast) and the ASA (broadcast) extended to cover in-store promotions, coupled with best practice gleaned from nutritional profiling, could hold the answer.

Neither industry nor campaigners have long to wait to find out. A DH spokeswoman has confirmed its "next steps will be announced shortly". What form they take remains to be seen, though she says she will keep The Grocer informed. But until that time, guilt lanes remain firmly in the dock.
Policies, products and pratfalls
Aldi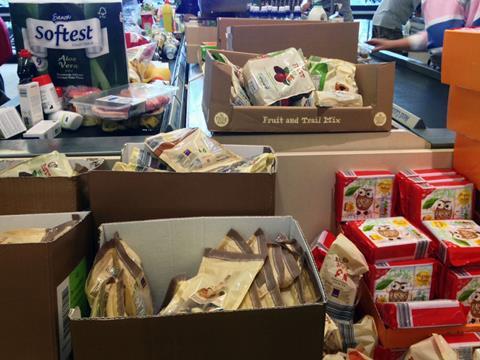 Policy: From January 2015, only non-confectionery products that meet the UK's Ofcom criteria are allowed
Products spotted: Raisins, trail mix, rice cakes, crispbreads and Hayfever pills
Point of view: "In response to customer demand and in line with our commitment to the health and wellbeing of our customers, Aldi is pleased to be rolling out our "healthier tills" initiative nationwide."
Pratfalls? In January 2015 Aldi was caught selling high sugar energy drinks in its new health lanes. Aldi said this was an "isolated incident"
Asda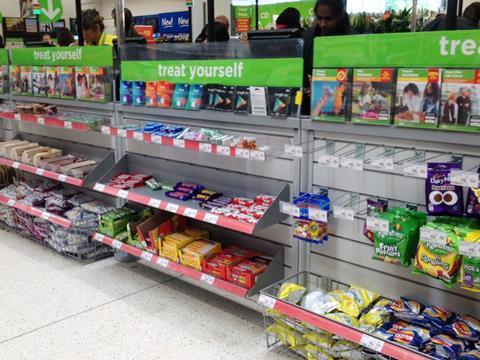 Policy: Limits display of confectionery to one in three checkouts, says the BRC. Asda says it offers a range of products at checkouts including both food and non-food items including "batteries, magazines as well as toiletries and some treats"
Products spotted: Fruit pastilles and Tic Tac alongside dried fruit & nut packs and Nakd bars
Point of view: "We believe in offering customers choice and encouraging healthy, balanced lifestyles"
Pratfalls? PR director Sian Jarvis reignited the debate in 2012 on R4's Today programme
Co-operative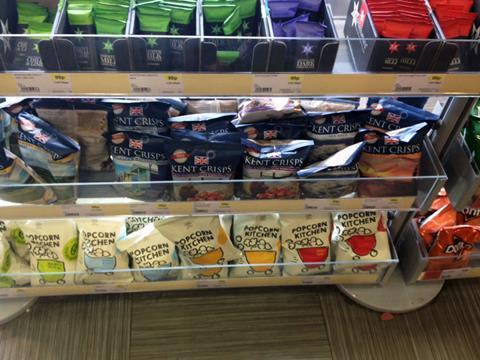 Policy: No confectionery at tills in large stores. In smaller stores it offers "healthier options at the till point". Doesn't include confectionery aimed at children via its packaging or marketing
Products spotted: White chocolate buttons and Walkers crisps mixed in with innovative healthier options like spiced ginger popcorn and strawberry brulee fruit and nut mix
Point of view: "We have a responsibility to support our customers to make healthier choices"
Pratfalls? Clean as a whistle so far
Iceland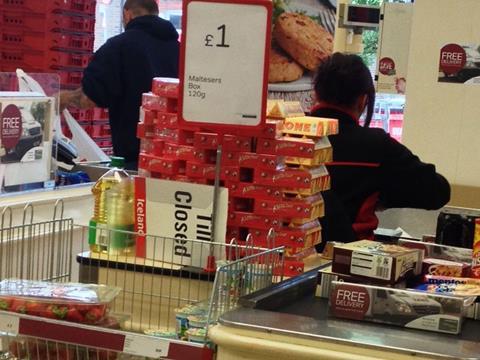 Policy: BRC says Iceland only allows one confectionery stand in each store. However an Iceland spokeswoman told The Grocer this was soon to change
Products spotted: Toblerone, Maltesers and Frozen-themed Milk Chocolate bars
Point of view: The retailer did not provide a comment
Pratfalls? Alongside Asda and Morrisons, Iceland was named by the Children's Food Campaign as one of the worst offenders for serving up junk food at checkouts, although it has plans to improve
Lidl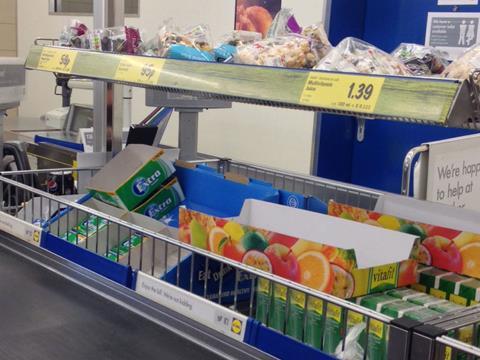 Policy: In January 2014 (a year before Tesco), Lidl banned confectionery from checkouts in all its 600 stores
Products spotted: Multivitamin fruit and carrot juice, dried fruit mix, and Scottish oatcakes
Point of view: "We know how difficult it can be to say no to pester power, so by removing sweets and chocolates from our tills we can make it easier for parents to reward children in healthier ways"
Pratfalls? Lidl took the lead on healthy checkouts and so far, so good
M&S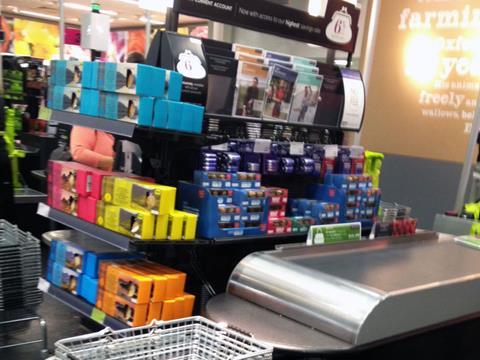 Policy: Removed confectionery with "child appeal" (eg Percy Pig, Colin the Caterpillar etc) from all belted till points in 2012. These remain at self-service tills and in convenience store queues, though
Products spotted: Batteries, Walnut Whips, and all-butter lemon shortbread at staffed tills
Point of view: "We are always looking for ways to help our customers make healthy choices and will continue to work closely with the government and industry"
Pratfalls? None, but then M&S offers confectionery at its checkouts
Morrisons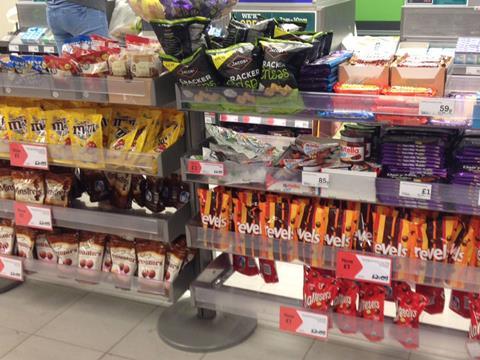 Policy: Has removed sweets and chocolate bars from one in five checkouts at larger stores
Products spotted: Cereal bars and dried fruit alongside Dairy Milk and boxes of Maynards gums
Point of view: "We respect that some of our customers want to avoid sweets and chocolate bars at the checkout and this enables them to do so"
Pratfalls? In 2012 named by the Children's Food Campaign as one of the worst offenders (with Asda and Iceland) for offering so much junk food at checkouts
Sainsbury's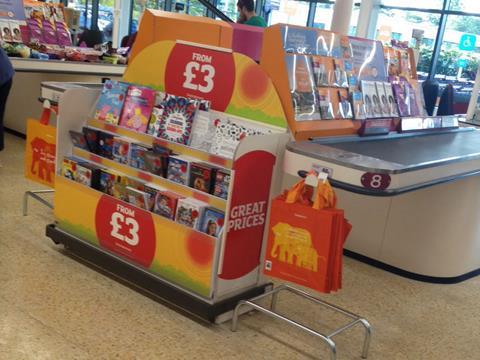 Policy: No sweets or chocolate are sold at checkouts in supermarkets outside festive seasons (with the exemption of small convenience stores)
Products spotted: Batteries, bubbly and Doritos at checkout ends in a supermarket, and Double Deckers, honey cashews and crispy seaweed thins at a c-store
Point of view: Sainsbury's failed to respond to requests for comment
Pratfalls? Sainsbury's has not fallen foul of its policy yet, but does give itself less strict guidelines to adhere to than rival Tesco
Tesco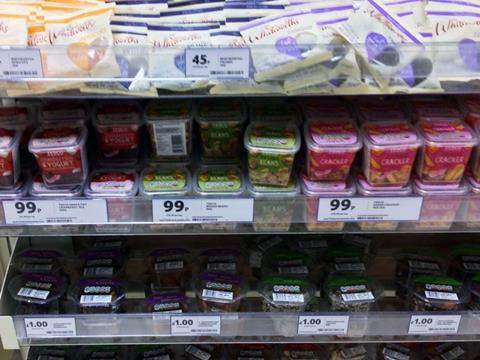 Policy: From 1 January, 2015 Tesco announced all sweets and chocolate were to be removed from checkouts, including Tesco Metro and Express convenience stores
Products spotted: Yoghurt coated cranberries, baked cracker mix and Walkers crisps
Point of view: "We want to help our customers lead healthier lives and we knew removing sweets from our checkouts was something they wanted us to do"
Pratfalls? In March Tesco was caught selling crisps at one of its new 'healthy' checkouts with evidence shared via Twitter
Waitrose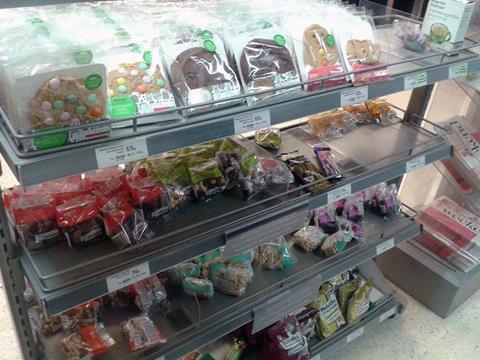 Policy: Does not sell sweets on its supermarket checkouts, the only exception being seasonal items such as bags of Hallowe'en treats or Christmas confectionery
Products spotted: Bear fruit bars, cereal bars, lemon drizzle cake and giant cookies on checkout shelves
Point of view: "Our branches are laid out in such a way that is convenient and appealing for our customers"
Pratfalls? To date, the foodies' choice has escaped controversy with all its checkouts looking virtuous and pure despite calorie-laden alternatives
Healthy alternatives
Lidl: Vitafit multivitamin fruit & carrot juice
Price: £1.29 for 5
Portion: 250ml per carton
Calories: 135kcal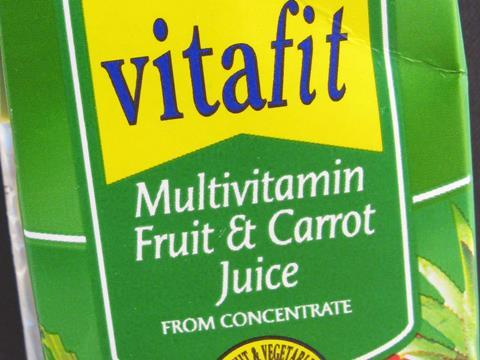 Health credentials: Claims to be made up of 100% fruit and vegetable content and to count as one of your 5 a day. According to traffic-light labelling, the juice is low in fat, saturates and salt, although high in sugars (35% of the daily recommended intake).
Tesco: Crunchy carrot slices
Price: £1
Portion: 30g
Calories: 118kcal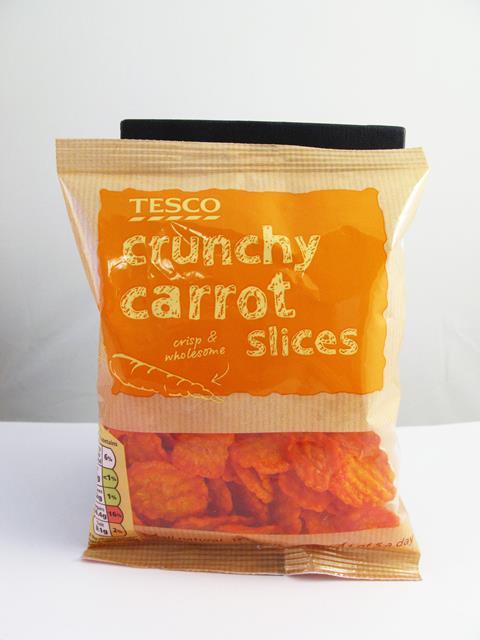 Health credentials: Front of pack says the "crisp and wholesome" slices are all natural, oven dried and count as one of your 5 a day. According to traffic-light labelling they are low in fat and saturates, have medium salt levels and are high in sugars (16% of daily intake).
Aldi: Brazil nuts
Price: £0.89
Portion: 150g
Calories: 173kcal per 25g serving (1038kcal overall)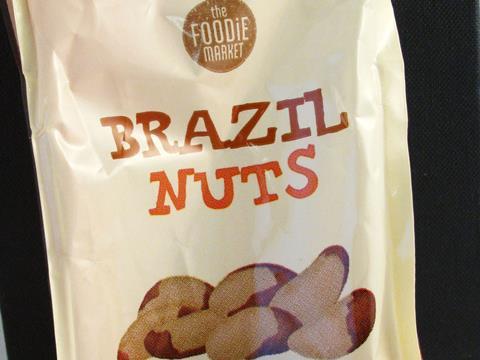 Health credentials: Nuts are packed full of protein, fibre and essential fats. This pack contains less than 1% of the recommended intake of sugars and salt, but does score highly for fat and saturates, with 24% and 22% of the recommended daily intake respectively.
The Co-op Group: Strawberry brulee fruit & nut mix
Price: £1
Portion: 50g
Calories: 107kcal per 25g (214kcal overall)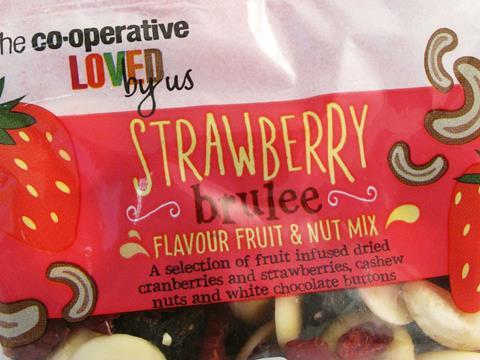 Health credentials: Both cashew nuts and dried fruit contains monosaturated (heart friendly) fatty acids. The fruit and chocolate do give this pack a high level of sugars (13% of RDA) and fat, but the mix contains less than 1% of the RDA for salt and is high in fibre.
Asda: Besana Wasabi peas
Price: £0.89
Portion: 45g
Calories: 107kcal per 25g serving (193kcal overall)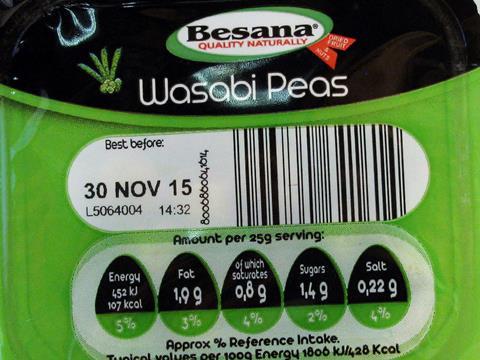 Health credentials: Wasabi peas can be high in calories but are high in fibre and protein. A 25g serving of this pack represents 2% of the recommended daily allowance of sugar, 3% of fat, and 4% for both sugars and saturates.
2/3
…of Tesco customers told the retailer that getting rid of confectionery from checkouts would help them make healthier choices
7%
…is the proportion of sales a retailer can generate from checkouts, despite them taking up only 1% of space, according to the EHI Retail Institute
20%
…higher footfall was recorded at Lidl's healthy checkouts, compared with those stocking confectionery during a 10-week trial