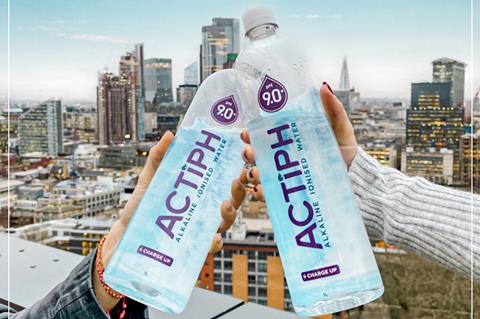 Alkaline ionised bottled water startup Actiph has seen revenues double and exports soar by 300% during the coronavirus crisis.
The London-based startup, founded by seven-time Guinness World Record rower Jamie Douglas-Hamilton, reported revenues up 1,000% on Amazon, 800% on Ocado and 300% in smaller online retailers as consumers sought to boost their health in the midst of the pandemic.
Exports meanwhile jumped 300%, with the brand available in 15 countries and preparing to enter Singapore and Australia. International sales currently account for 40% of the business' turnover.
Jamie Douglas-Hamilton founded Actiph after experiencing the benefits of salt water on a 5,000-mile row from Australia to Africa, when he realised fresh water mixed with sea water is "more hydrating, increases power, energy levels and reduces hallucinations".
"Alkaline water is the fastest growing beverage category in the world and is projected to be worth $4.3bn by 2023 – it's an extremely exciting place to be," Douglas-Hamilton said.
"Since launching in 2017, we have experienced 300% year-on-year growth and doubled our distribution in the past nine months."
He added: "Health has never been as relevant as it is now and it is why our exports have soared by 300%.
"Within the next five years, we want to transform Actiph into a global lifestyle brand and become one of the top three players in the US and the leading alkaline water in Europe, the Middle East and Asia Pacific."