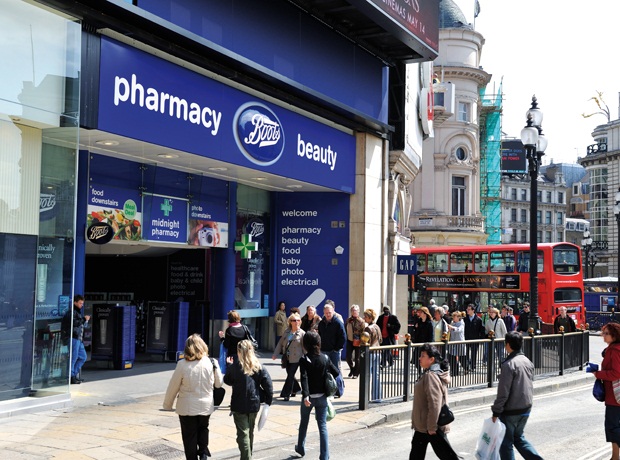 Alliance Boots reports strong growth as Walgreens partnership takes shape

Alliance Boots has reported a 4.3% rise in full year revenues and declared its partnership with US pharmacy group Walgreens "ahead of target".
The owner of Europe's largest pharmacy chain saw revenues for the year ending 31 March 2014 climb by 4.3% on both a reported and constant currency basis to £23.4bn.
Trading profit increased by 0.4% on a reported basis to £1.3bn, translating to a rise of 0.6% on a constant currency basis.
Stefano Pessina, executive chairman, commented: "These results have been achieved during a period when considerable management time and other key resources have been dedicated to our Walgreens partnership.
"This has covered many areas, including our joint synergy programme, forward planning and preparation for our anticipated full merger, together with the burden of complex reporting requirements."
Walgreens bought a 45% stake in Alliance Boots in 2012 with an option to buy the rest of the company in 2015.
The companies have since established a joint Swiss venture, Walgreens Boots Alliance Development, in 2012, and have rolled out selected Boots products across Walgreens US stores. They are also developing a brand sourcing programme utilising the Alliance Boots hub in Asia and have entered into a joint collaboration with drug company AmerisourceBergen.
Alliance Boots said in a statement: "Our joint synergy programme with Walgreens is increasingly providing us with significant financial benefits… While still at an early stage, we are pleased with the overall progress of the programme, total synergies achieved to date tracking ahead of target."
Including Alliance Boots' share of revenue of associates and joint ventures, revenues increased by 4.3% to £25.7bn.
The group's pharmaceutical wholesale business was the strongest performing division with 4.8% growth, while health & beauty saw revenues rise by 2.4%.
In the UK, the health and beauty division (which includes pharmacy chain Boots and Boots Opticians) saw revenues increase by 2.3% to £6.7bn and trading profit increasing by 2.1% to £830m.
However, Alliance Boots warned of continued "challenging" trading conditions due to "governments across Europe continuing to seek to contain growth in healthcare expenditure, a relatively slow retail consumer recovery in the UK and competitive pressures".
The company stated: "In our industry, we are at the point in the cycle where we are reinventing our business models, in order to deliver sustained profit growth.
"Being global is increasingly important in many business sectors including our own. The steps taken by the group over the last two years, most notably our transformational partnership with Walgreens, our joint agreement with AmerisourceBergen, our geographical expansion in Latin America and Asia, and all the work we have done to develop our brands, are enabling the group to continue on its path to becoming the clear world leader in both retail pharmacy and pharmaceutical wholesaling."