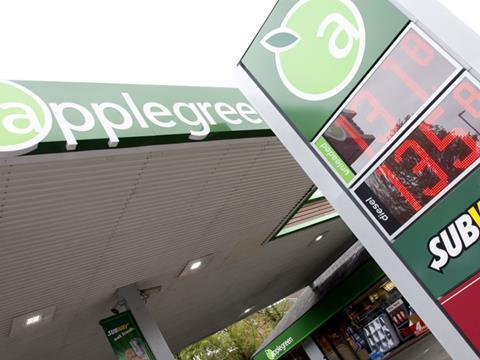 Irish forecourt operator Applegreen (APGN) saw gross profit rise 30% in its first year as a listed company as it grew its estate from 152 to 200.
Group revenues were up 15% to €1.1bn in the year to 31 December 2015, including like for like shop and food sales grow of 6.9% (4.5% growth in constant currency).
Applegreen reported "strong" operating performance, with adjusted EBITDA up 26% to €28.9m and a 30% increase in gross profit on FY 2014 to €125.9m.
Bob Etchingham, CEO of Applegreen said: "In reporting our first full year results as a public company we are very pleased to announce a strong performance in 2015 with growth in both profitability and turnover delivered across each of the Republic of Ireland and the UK.
"This performance was driven by new site openings in both the latter part of 2014 and early 2015 as well as the increased contribution from food driven by our upgrade and rebranding programme."
During the period it expanded its site portfolio with 48 new sites to reach 200, including 37 in the Republic of Ireland, eight in the UK and three in the US. A total of 23 of these were company owned sites, including six Service Areas and 17 petrol filling stations and 25 were dealer sites.
It also continued its rebranding and upgrade programme with 27 sites completed in 2015, with one or more new food outlets added at each site and expanded its range of food outlets by 29 including launching two new food offers – Chopstix and Greggs.
Etchingham said Applegreen has made a "positive start" to 2016, adding four service area sites and seven petrol filling stations to the estate.
"We continue to see good opportunities for green field and bolt-on expansion. Consumer sentiment is strong in both our key markets, particularly the Republic of Ireland, and we are confident that our distinctive retail offering in the forecourt sector will continue to deliver growth through 2016."
Revenue in the Republic of Ireland increased by 12.6% and gross profit increased by 23.0%. Like for like store and food sales increased by 4.9% and like for like gross profit increased by 6.5%.
In the UK revenue increased by 18.1% during 2015 while gross profit increased to €34.7m in 2015 from €23.0m in 2014. Like for like stores and food sales increased by 3.1% (constant currency) while like for like store and food gross profit increased by 8.5% (constant currency).
Applegreen said the key development in the UK during the year was the opening of its first Motorway Service Area in Northern Ireland just north of Belfast.
Applegreen shares were up 0.4% to 352.5p at the end of Monday trading. The shares are up by more than 20% since their June 2015 listing.
Shore Capital, Applegreen's house broker, called the results "outstanding", adding: "The strategy underpinning Applegreen's growth revolves around a very competitive fuel proposition, and converting the fuel driven into higher margin retail and increasingly food to go. The success of which can be seen in group wide food & retail LFL sales growth of 6.9% and strong gross profit LFL growth of 8.9%".