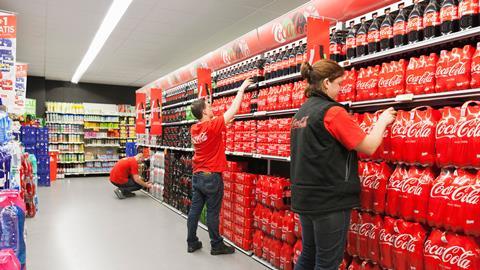 Great Britain Coke bottler Coca-Cola Europacific Partners has indicated it will push through further price rises to mitigate soaring inflation, but insisted it remains focussed on ensuring its products remain affordable.
Yesterday the group raised its sales and profits outlook after strong volume-driven first half growth on the back of the rebound of out-of-home consumption.
First half revenues were up 40% year-on-year to €8.3bn, boosted by the acquisition of Coca-Cola Amatil as well as organic revenue growth of 17% through both volumes and pricing.
Cost of sales per unit case were up 5.5% in the first half, reflecting higher concentrate costs, commodity inflation and adverse mix, which it said will rise to 7% over the full year.
So far it has largely recovered those inputs, with revenue per unit case was up 5% in the first half.
CCEP CFO Nik Jhangiani said the bottler remained in "ongoing discussions with retailers around the next round of price increases".
However, he stressed that there would not be "blanket increases" across ranges and geographies.
"We're being very surgical on price, looking at across our channels and packs within those channels to ensure our products remain affordable and relevant to our consumer base," he said.
In particular, he said inputs had been inflated by a sharp price in aluminium prices, as well as the wider cost of labour and energy. However, he said there had been some recent "respite" in aluminium prices, which could ease input inflation in 2023 and beyond.
Ongoing margin is also supported by CCEP's efficiency drive, having previously announced a multi-year programme to save €350 to €395m.
He said this drive was "well on track" and delivering gains at a slightly faster pace than projected.
While the company could be hit by wider economic concerns and the impact on consumer spending, he argued the soft drinks category has a history of remaining robust through previous recessions.
"We're always watching closely in terms of changes to consumer behaviour and any signs of down-trading. But our category remains very affordable and the love for our brands and quality of our products continues to be strong," he said.
Broker Jefferies said the "stronger than expected" volume and revenue recovery showed "strong momentum in the business".
"Consensus had crept to the upper end of the guidance range and expectations had likely risen post strong reporting from Coca-Cola Co and positive read-across from the reopening space… However, CCEP's beat and raise should be good enough."