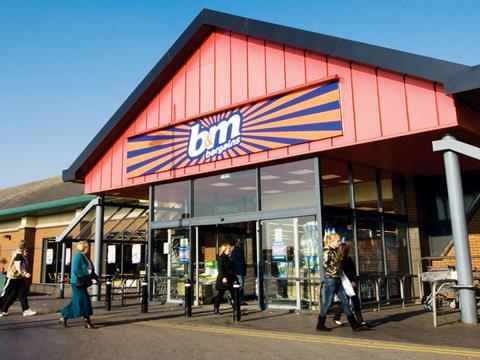 B&M European Value Retail shares failed to receive much of a boost despite better-than-expected first-quarter sales, as fears persisted over the impact of inflation on its customer base.
The B&M Bargains owner posted a 9.1% fall in core UK like-for-like sales to £957m in the 13 weeks to 25 June.
It marked an improvement on the double-digit drop forecast by analysts after the chain previously announced a 19.1% sales slump in the first five weeks of April, meaning the subsequent eight weeks of May and June saw sales down just 1.6%.
The group added frozen food retailer Heron Foods had performed "consistently well" throughout the quarter and was ahead of internal expectations, with sales up 10.8% to £113m.
Group revenues, including stores in France, fell 2.2% on a constant currency basis to £1.2bn as France delivered strong like-for-like growth.
Overall, earnings guidance for the full year remained unchanged from its May guidance of EBITDA in the range of £550m to £600m.
Liberum said the figures were "as positive as we could have hoped for", adding: "It should reassure the market that the sequentially improving LFL trend for the rest of the year that is baked into management's guidance is highly achievable."
However, Shore Capital highlighted concerns over "inventory levels and loss of food price leadership". "B&M is firmly in the retail value for money camp," it said. "However, we see challenges ahead due to the cost of living squeeze, particularly amongst B&M's lower-income consumers," it said.
The shares initially edged up on the news, closing on Wednesday up 1.8% to 386.4p, but had lost 5.2% by Thursday lunchtime to drop to 366.5p and back close to annual lows. The shares have now lost more than a third of their value year on year.
Elsewhere, troubled McBride secured a waiver of its June covenant tests until the end of September as it struggles to deal with rising costs.
It has agreed with its banking group to maintain liquidity of at least £40m and not to pay dividends until the business can prove it is in compliance with its existing covenants. McBride has about £75m of available liquidity.
Lossmaking McBride has issued several profit warnings over the course of the past year, but said this week it was continuing to perform in line with market expectations and would provide a fuller update after the close of the financial year ending 30 June.
Shares initially jumped by a double-digit percentage on the news, but settled to close up 3.1% on Wednesday at 16.9p and fell a further 5.6% on Thursday. The stock is down 82% year on year.