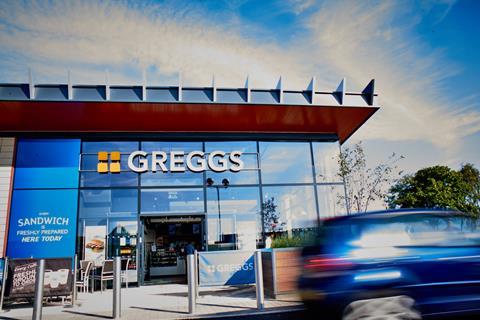 The tills started ringing once again last year at food-to-go stalwart Greggs, but investors were spooked by its admission that soaring inflation was running ahead of its expectations and would hit profits this year.
The high street bakery's total sales were a record £1.23bn in 2021 despite Covid restrictions continuing into the first quarter, representing a 5.3% increase on the levels seen in the pre-Covid year of 2019. Company-managed shops saw like-for-like sales slide 3.3% compared with 2019, though sales growth returned following the lifting of restrictions seen in the first quarter.
Growth came from the opening of 131 new shops opened in 2021 (with 28 closures), in an expansion of its estate to 2,181 shops trading by year-end. From 2022, the group is targeting 150 new shop openings, with the potential for at least 3,000 branches in the UK over time.
This top-line growth saw pre-tax profit for the year also bounce back to £145.6m, compared to a £13.7m loss in 2020 and a profit of £108.3m in 2019.
However, Greggs' shares plunged 3.4% on Tuesday to 2,206p, having dropped as low as 2,025p in early trading, on warnings rampant cost inflation was exceeding its own expectations.
Current costs across its business were rising by up to 7% on soaring prices for raw materials, staff and energy, it said. CEO Roger Whiteside pointed to the impact of Russia's invasion of Ukraine on the inflationary outlook, noting the subsequent spike in the price of key Greggs ingredients such as wheat, corn and sunflower oil. As such, Greggs will continue to raise prices to mitigate inflation, having undergone a wave of price increases at the start of the year.
Although it remains committed to its estate expansion plans, Greggs said the impact of inflation would mean there would be no material profit growth at all in 2022.
Despite the share price drop, brokers were undeterred by Greggs' warnings on costs.
"Even though the cost pressures and demand risks might seem painful now, Greggs has its eye on the longer-term prize, which is having a much bigger business," AJ Bell commented. "It is laying the foundations by strengthening its infrastructure to support greater store numbers, longer opening hours and more delivery orders."
Barclays added: "There appears to have been no obvious volume impact from price increases, and management believe that their price advantage versus key competitors has widened… The near term risks of owning consumer stocks are clear, but longer term we see Greggs as a clear winner."
However, Shore Capital cautioned that a wider economic slump could impact Greggs despite its competitive price position. "The amalgam of elevated gas, oil and wheat costs could be particularly challenging for Greggs, which is very value orientated and, as such, has many customers that many now start to really feel the pinch… [and] may resort to home prepared food."
Greggs shares have lost around 14% of their value since the start of March and dropped by a third since the start of 2022, but still remain up 4% year on year.