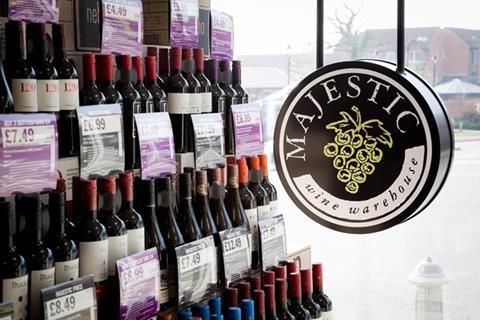 Some of the gloss was chipped off Majestic Wine's £70m takeover of Naked Wines in April as shares slid back by 4.3% on Monday on the back of weak profit figures and downbeat guidance.

The stock had climbed by more than 20% in the weeks following the Naked deal, but Monday's 22.5% drop in pre-tax profits to £18.4m for the year to during the year to 30 March was met more cautiously. Sales were still up 2.3% to £284.5m and like-for-likes up 1.9%, but Majestic warned profits would remain suppressed in the short-term as it embarks on a three-year investment plan.

By Thursday the shares remained 4.1% down on last Friday's 440p closing price, but analysts at Canaccord Genuity were more upbeat about Majestic's prospects, commenting: "The Naked acquisition and the appointment of Naked founder Rowan Gormley as group CEO provides an opportunity for a fresh take on what we believe is still a fundamentally sound business."

It was another tough week for Poundland, which saw its shares sink by more than 6% on Thursday morning to hit a new all-time low of 291.2p after issuing its own annual results.

At a glance, the figures look healthy enough. Revenues in the group's first year as a listed plc - the 12 months to 29 March - increased 11.9% to £1.12bn and underlying pre-tax profits were up 18.6% to £43.7m. However, in a trading update for the 11 weeks to 14 June, Poundland reported a sales increase of just 3.5% to £228.9m, implying like-for-like figures were down by 3% to 4%.

Shore Capital analysts urged investors to look beyond the short-term trading difficulties: "The accelerated opening programme and weaker comparatives leave Poundland well-placed to build sales momentum," it said. The house broker downgraded its profits forecast for the current year for the second time last week.

Conviviality Retail saw its share price jump by 3.3% on Monday to 154.5p as it launched a new ad campaign matching the price of branded products to Aldi own-label items. The shares remained slightly up at 150p on Thursday.