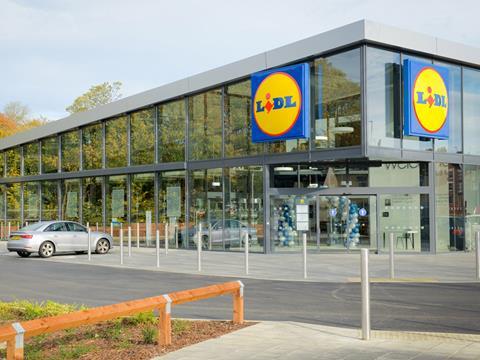 Top story
Discounters Aldi and Lidl have grabbed a record share of the grocery market, accounting for more than 12% of supermarket sales in the UK, Nielsen revealed this morning.
Aldi sales grew 12% year-on-year and Lidl jumped 9.1% during the 12 weeks ended 25 February 2017. It is well ahead of the overall market, which registered growth of 2.2% in the period.
The combined market share of the discounters crossed 12% for the first time (12.3%), or nearly £1 in every £8 spent on groceries.
"Whilst the retail landscape is very different to 25 years ago when Aldi entered the UK, discounter market share is higher than when Kwik Save was at its pomp as the original discounter," said Mike Watkins, Nielsen UK head of retailer and business insight.
"The difference today is that Aldi and Lidl aren't solely associated with low-priced brands, having been very astute at promoting the quality and price of their private-label range to appeal to a wider array of shoppers.
"Aldi and Lidl's momentum continues due to new stores opening and the average shopper spending more – testament to the wider and higher quality of products available."
Aside from the discounters, Iceland had the biggest rise in year-on-year sales (+5.6%) while Morrisons, ahead of results on Thursday, had the strongest rise among the big four supermarkets (+1.9%). Tesco continued its recovery, up 0.8%, with Asda down 0.9% and Sainsbury's falling back 0.3%. The Co-op climbed 1.6% in the 12-week period, while Waitrose was up 3.1% and Marks & Spencer rose 4.3%.
Across the supermarkets, for the most recent four weeks (ended 27 February), takings at the tills rose 1.1%, boosted by the return of inflation.
Morning update
Supermarket sales grew at their fastest rate since June 2014 – up by 2.3% compared with the same time last year, data from Kantar Worldpanel showed this morning. The jump came as like-for-like inflation doubled since last month to stand at 1.4% in the 12 weeks to 26 February. Kantar said that rising butter, fish, tea and fresh lamb prices have been partially offset by falling prices in categories including crisps, bacon, eggs and fresh poultry.
Fraser McKevitt, head of retail and consumer insight at Kantar Worldpanel, added: "However, when placed in their longer-term context, these price increases are still fairly minimal.
"Staples such as butter, tea and fish all saw prices rise by more than 5% during the past 12 weeks, as fruit and vegetables – many of which are imported – also saw an uptick in price. However, it's important to point out that inflation is still far from universal, with prices actually falling across a number of categories.
"While consumers may be starting to feel a very slight pinch, increased inflation has led to overall market growth."
Combined sales at the UK's four largest supermarkets increased by 0.5% year on year, with the big four holding just more than 70% of the market.
"This is a timely reminder that despite the huge interest in the discounters during recent years the big four remain a force to be reckoned with: they still hold just over 70% of the market, with almost 99% of the population shopping in a Tesco, Sainsbury's, Asda or Morrisons during the latest quarter," McKevitt said.
A strong Valentine's Day and the return of inflation in supermarkets helped boots food sales in February, according to the latest figures from the British Retail Consortium. It helped offset some of the decline seen on the rest high street in February. UK retail sales decreased 0.4% on a like-for-like basis from February 2016, when a 0.1% rise was recorded, the BRC – KPMG retail sales monitor showed. On a total basis, sales rose 0.4% in February, against a 1.1% increase in the previous year – below the three-month average of 0.8% and the 12-month average of 0.9%. Over the three-months to February, Food sales increased 0.6% on a like-for-like basis and 2% on a total basis. It is the third consecutive three-month average total growth of 2% or above, taking the 12-month total average growth to 1.2%, the highest since May 2014.
"Overall growth was subdued in February driven by a continuation of the slowdown in non-food sales," BRC CEO Helen Dickinson said. "This was marginally offset by slightly stronger growth in food sales.
"Tougher times are expected ahead. The impact of inflation on consumer spending will add further intensity to an already fiercely competitive environment in which the ability to adapt and innovate will be key to survival. Looking to the Budget this week, we hope to see a commitment from government to lay a path to a truly sustainable business rates system that will give retailers the flexibility needed to invest and support their local communities."
Paul Martin, UK head of retail at KPMG, added that despite food sales bucking the trend, creeping inflation was beginning to erode consumer confidence.
IGD chief executive Joanne Denney-Finch said: "Food and grocery turned in a solid sales performance throughout February, with a particularly strong Valentine's Day this year.
"The return of a little inflation to the aisles is also playing its part and shoppers are bracing themselves for more to come."
PureCircle (PURE) has slumped to a loss in its first half as sales plunged 13.4% to $47.2m (£38.6m) as the stevia producer was denied access to the US during an investigation by US Customs & Border Protection last year. The group fell to a pre-tax loss of $2.2m (£1.8m) in the six months to 31 December, compared with a $5.4m profit in the same period a year earlier. Adjusted EBITDA was also down 33.3% to $9m.
PureCircle said the decline was a direct consequence of the action by US Customs in holding shipments of stevia to investigate allegations of slavery in the supply chain. The shipments were finally released after six months and PureCircle was taken off the withhold release order (WRO) list.
Sales to the US have now resumed but the group said it would "take some time" to rebuild the previous momentum in the region.
Outside of the US, PureCircle said revenues in the half had climbed 10%.
CEO Magomet Malsagov added: "I am particularly proud of the 1H FY17 results where despite being unable to service the US market, we delivered a set of results which demonstrate our resilience as a business and our expanding global footprint.
"During 1H FY17 all the key industry trends have continued to develop in favour of stevia. Regulators and F&B companies in all regions are being challenged to find solutions to obesity and diabetes. The emergence of sugar taxes in some countries has accelerated the search for solutions.
"With access to all markets available, our strong customer relationships and the increased demand for stevia solutions by the global F&B industry, the company is confident of significant medium to long term growth in sales and profitability."
Revenues at Just Eat leapt 52% to £375.7m in 2016 as orders on the takeaway site soared 42% to 136.4 million. Underlying EBITDA almost doubled as a result to £59.7m, with pre-tax profits up 164% to £91.3m. CEO David Buttress said: "We continue to see strong growth in the UK, adding materially more revenues in absolute terms than the year before. Our international businesses also go from strength to strength.
"2016 was an important year operationally, positioning the business very positively for the future. We continued to invest in our technology, brand and people to expand the choice we offer consumers and the benefits we deliver to our restaurant partners. Our markets remain relatively under-penetrated, meaning there is considerable runway to generate sustainably profitable growth across the business."
Agri-services group Origin Enterprises has reached agreement to acquire the fertiliser activities and certain assets of Bunn Fertiliser. Based in the UK, Bunn provides prescription fertiliser blends and nutrition management systems servicing the arable, grassland and horticultural sectors. Origin will acquire the business, on a debt-free and cash-free basis, for a consideration of £14.2m payable in cash on completion. The total enterprise value of the transaction, inclusive of estimated average working capital is expected to be £18.2m. Bunn's turnover for the year ended 31 December 2016 was £127.7m and maintainable earnings before interest and tax (EBIT) is circa £2.8m.
Origin chief executive Tom O'Mahony said: "Bunn is an excellent business with a dedicated commitment to addressing the crop yield, quality and soil fertility requirements of primary producers. Bunn advances the Group's capacity to manage supply chain complexity as well as providing complementary customer and product channel access. We are looking forward to welcoming everyone associated with Bunn Fertiliser to Origin Enterprises."
Yesterday in the City
It was a quiet start to the week in the City for groceries and fmcg, with the Budget to come on Wednesday and Morrisons finals on Thursday.
The supermarkets, mostly, had a good day ahead of this morning's Kantar and Nielsen data. Ocado (OCDO) led the way, rising 1.5% to 260.5p, followed by Marks & Spencer (MKS), up 1.4% to 335.5p. Morrisons (MRW) jumped 1.3% to 246.7p and Tesco (TSCO) was up 1% to 190.1p. Sainsbury's (SBRY) was the only grocer in the red, down 0.5% to 260.1p.
Fallers yesterday included WH Smith (SMWH), down 1.1% to 1,736p, Greencore, down 0.8% to 259.5p, and Cranswick (CWK), down 0.3% to 2,410p.
Sausage casing manufacturer Devro (DVO) sizzled 1.8% higher to 189.8p after underlying operating profit increased 14% to £38.1m in 2016.
The FTSE 100 slipped 0.3% to 7,350.12 points as a result of a weak day for mining stocks.