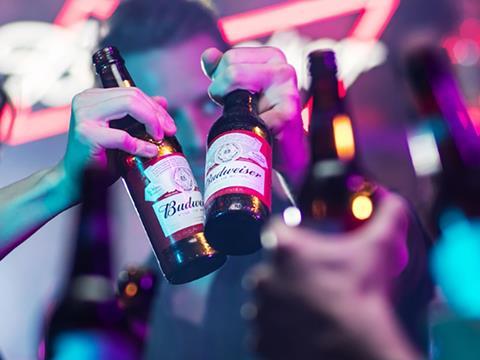 Top story
The world's largest brewer AB InBev has announced CEO Carlos Brito will step down after 15 years in charge, to be replaced by North America chief Michel Doukeris.
Brito will relinquish his duties after 32 years at the company on 1 July.
AB InBev Board Chairman Martin Barrington commented: "We are grateful to Brito for his tremendous service and leadership."
"Among his many accomplishments, Brito was the architect who led and built AB InBev into the world's leading beer company and a leading global consumer packaged goods company by masterfully integrating the many businesses that comprise AB InBev today.
Brito added: "I am very proud of being part of this team of 164,000 colleagues around the world that have been on our journey. It has been an honour and privilege to work with such a talented group of individuals as we built this global company based on strong values and our unwavering commitment to excellence, quality, consumers and communities.
AB InBev said Doukeris is "uniquely suited" to accelerate AB InBev's transformation and lead its next chapter of growth, having served in key leadership roles in Brazil, China and the United States
Prior to leading the North America Zone, Michel was the company's global Chief Sales Officer. Prior to that, he was President of the Asia Pacific Zone where he accelerated top line, volume and EBITDA growth.
Barrington said: "After conducting a rigorous and robust selection process, the board is delighted that our next CEO comes from our deep bench of leadership talent. Michel is the right leader to take the company into its next phase of organic growth and success.
"He has a proven track record in innovation, multi-category brand building in beer and adjacencies, consumer insight, and expanding premium brands in both emerging and developed markets. The Board is excited to continue to work closely with Michel as we grow the company."
The leadership change comes as AB InBev announced a strong recovery in first quarter sales as coronavirus restrictions eased across the globe.
Total volumes grew by 13.3% in the first three months of the year, with own beer up by 14.9% and non-beer up by 4%.
Total revenues were up 17.2% with revenue per hl growth of 3.7%, driven by ongoing premiumisation and revenue management initiatives.
Combined revenues of its core global brands, Budweiser, Stella Artois and Corona, increased by 29.5% and by 46.4% outside their home markets.
Compared to pre-pandemic levels of 1Q19, it still delivered own beer volume growth of 2.8%, even in the context of ongoing COVID-19 related impacts, such as on-premise channel restrictions across key markets (particularly in Europe) and a one-month ban on the sale of alcohol in South Africa.
Healthy revenue growth translated to an EBITDA increase of 14.2%. Positive brand mix and ongoing cost discipline was somewhat offset by anticipated pressures from transactional FX and commodity headwinds, channel and packaging mix, and an increase in sales and administrative costs.
Looking forward ABI said it expects its 2021 normalized EBITDA to grow between 8-12% and revenue to grow ahead of EBITDA from a healthy combination of volume and price.
The company stated: "Our industry-leading portfolio of brands is connecting us with more consumers on more occasions, as shown by continued top-line growth. We are solving real customer and consumer needs with digital platforms, connecting us more closely to those we serve worldwide. As the world overcomes COVID-19, our purpose of Bringing People Together for a Better World is more relevant than ever."
Morning update
Newly listed Virgin Wines has raised its outlook as it updated the market on trading to date for the year ending 30 June 2021.
It said that the strong levels of customer demand experienced in the first half of the company's financial year have been maintained in the second half as it continues to benefit from strong order frequency among existing customers and good levels of new customer acquisitions.
As a result of the continued strong performance, the Board anticipates revenue and profitability for FY21 will be ahead of its previous expectations, with turnover for the year expected to be no less than £73m and an improvement in EBITDA margin.
Whilst remaining mindful of the potential impact from the easing of lockdown restrictions on consumer spending patterns over the coming months, the board said it remains confident that the underlying growth drivers, which the DTC wine sector is experiencing, alongside the accelerated shift in consumer behaviour towards online retailing, will continue.
Against this backdrop, the board is confident that Virgin Wines, underpinned by its growing, subscription-weighted customer base, remains well positioned to continue to deliver its growth strategy and meet the board's expectations for FY22.
CEO Jay Wright commented: "The strong sales momentum delivered in the first half of the financial year has continued into H2 so far. We have been encouraged by the strong customer demand for our wines, alongside growth in our new range of beers and spirits, driven by the ongoing shift in consumer behaviour towards online retailing.
"I would like to thank all of our loyal customers and partners for their continued support in what has been a transformational year for Virgin Wines, having listed on AIM. The Group remains well positioned to continue to deliver on our long term growth strategy, underpinned by our unique wine sourcing model and unrivalled consumer propositions, alongside our continued focus on all aspects of the customer experience and growth in our customer base."
Sports nutrition and ingredients supplier Glanbia has reported a strong start to 2021 and guided to growth for the full-year to be at the upper end of existing guidance.
Ahead of its AGM this morning, Glanbia said wholly-owned revenues in Q1 were up 10.5% on a constant currency basis (up 2.0% reported) versus prior year due to good demand across both Glanbia Performance Nutrition and Glanbia Nutritionals.
Like-for-like wholly-owned revenues in the quarter were up 9.7% versus prior year.
GPN delivered revenue growth in Q1 2021 of 14.1% on a constant currency basis with like-for-like branded revenue growth of 17.6% largely driven by strong demand in North America and Asia Pacific.
GN Nutritional Solutions delivered volume growth in Q1 2021 of 10.3% driven by strong customer demand for vitamin and mineral premix and solid trends in dairy solutions.
Price decline related to lower year-on-year US Cheese market prices offset price improvement in GPN and Nutritional Solutions in the period.
Glanbia said it has started 2021 well with strong revenue growth in the first quarter as trading conditions have improved in key regions in North America and Asia Pacific. This more than offset headwinds in European markets related to ongoing Covid related restrictions across the region.
Some revenues in the first quarter are attributable to the reopening of channels and markets, however there is strong underlying demand for Glanbia's health and wellness focused portfolio which is continuing into the second quarter.
Glanbia is confident of delivering good revenue growth in both GPN and Nutritional Solutions in FY 2021 assuming restrictions continue to ease in key markets.
Its GPN 'transformation programme' will support the delivery of double-digit margins in GPN in FY 2021 and will enable the business to invest in increased brand marketing as well as counteract some raw material inflation, which is expected in the second half of the year.
Following a strong first quarter. Glanbia expects adjusted earnings per share to be in the upper end of the previously guided range of 6% to 12% growth on a constant currency basis.
Group MD Siobhán Talbot commented: "Globally, as we emerge from the pandemic, health, wellness and nutrition are prominent consumer trends. In our portfolio, we saw in Q1 strong consumer demand for the Optimum Nutrition brand within GPN and for vitamin and mineral premix from customers of Nutritional Solutions with revenue growth also reflecting the reopening of certain markets and channels.
"While the strong underlying demand for Glanbia's health and wellness focused portfolio is continuing into the second quarter we remain vigilant to the continued volatile and disruptive potential of the Covid-19 pandemic."
On the markets this morning, the FTSE 100 has consolidated yesterday's gains by rising another 0.2% to 7,051.8pts.
Early risers include Glanbia, up 4.3% to €13.17, Virgin Wines, up 3.1% to 245.9p and Greencore, up 1.7% to 161.6p.
Fallers so far include Deliveroo, down 2.3% to 263.8p, Hotel Chocolat, down 2% to 365p and Greggs, down 1.5% to 2,342p.
Yesterday in the City
The FTSE 100 jumped 1.6% to 7,039.3pts yesterday, recording its best day in two months on optimism about the prospects of a COVID recovery.
Risers included WH Smith, up 2.8% to 1,868.5p, Morrisons up 1.6% to 176.8p and SSP Group up 1.4% to 322.1p
McBride slumped 15.8% back to 78.8p yesterday after warning trading in its final quarter has weakened considerable compared with the first nine months.
Other fallers included Hotel Chocolat, down 2% to 372.5p, Greencore, down 1.7% to 158.9p and Hilton Food Group, down 1% to 1,220p.