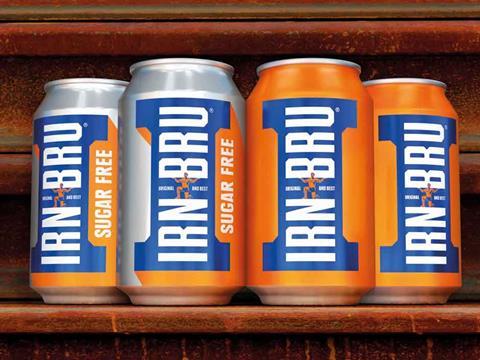 Top story
Soft drinks group AG Barr (BAG) has increased sales by more than 2.5% in its final quarter of the year despite the intensifying war on sugar and competitive UK market.
The Irn Bru maker said in a pre-close trading update for the year ended 30 January it was up against challenging comparatives from the fourth quarter in 2014/15 when revenue growth was 5%.
"The soft drinks market in the UK has continued to be challenging and highly competitive," the business said. "However, our trading strategy, brand activities and execution have delivered a robust market performance in the period."
Business performance continued to improve across the second half and revenue for the 53 weeks to the year end is expected to be about £257m. Once the extra week of trading was accounted for, sales in the year declined by about 1.5%, AG Barr added.
"Having dealt with the challenges of the first half and successfully managed the festive trading period we are on course to meet our expectations for the year," the group said.
"While trading conditions are expected to remain challenging, we are confident that the combination of our strong and flexible business model, our differentiated brands and our well invested asset base will allow us to deliver further long term business success."
Shares in the soft drinks manufacturer have climbed 0.5% so far this morning to 518.2p.
Morning update
On thegrocer.co.uk this morning the finance channel reveals that fast-growing wholesaler Kitwave is close to securing investment to allow it to continue its acquisitive buy-and-build strategy. Majority shareholder and founder Paul Young is significantly increasing his 56% holding in the business, with private equity firm NVM seeking an exit. Read the full story here.
Waitrose sales took a 1.8% tumble to £117.9m in the week ended 23 January despite a healthy foods promotion. The worrying end to January put the retailer about 4% down on a like-for-like basis, according to independent retail analyst Nick Bubb. The Power of 5 promotion, which allows customers to save 25% when they purchase any five fruit and veg products, was launched last week. The promotion saw soft fruit continue to perform well, up 12.1%, with strawberries and raspberries rising 29% and 14% respectively. Avocados were also up 15.4% and organic green veg up 31%, with spinach proving to be a favourite, up 47%. Last week also saw the launch of the new TV advert for Pick Your Own Offers, with one million customers now signed up to the scheme. This is the last week that Waitrose will report its weekly figures on a figure morning. John Lewis will now release the data every Tuesday at 10:30am.
Despite continuing worries for retailers and the high street, GfK's long-running Consumer Confidence Index increased two points to +4 in January. Four of the measures used to calculate the index saw increases this month, and the other one was unchanged. Joe Staton, head of market dynamics at GfK, said: "UK consumers remain resiliently bullish this month with no sign of the January blues denting their view on the state of their personal finances for both the past year and also for the rest of 2016. And with post-Christmas bargain-hungry consumers evidently snapping up bumper discounts across the country, the index was further boosted with shoppers agreeing that now was a good time to buy (+9 points). However, despite some gains this month on the general economic situation for the UK – looking back and looking forward – consumers remain pessimistic with these two components of the index still in negative territory. February's barometer will make for interesting reading given the rocky start to global markets this year and the impact on prospects for the year ahead."
It has been a good start for the markets, with the FTSE 100 clawing back yesterday's losses and rising more than 1% in the early trading to 5,993.2 points. Most grocery and fmcg stocks are also trending up as well.
Yesterday in the City
Diageo (DGE) shares tumbled 1.5% yesterday to 1,838.5p as its operating profits and net revenues fell by £150m and £400m respectively as a result of currency volatility. Investors weren't taken by the better-than-expected rises in net organic sales and volumes and CEO Ivan Menezes confidence in a "stronger, more competitive business".
Cranswick (CWK) fared better after a positive Christmas trading update, with volumes climbing 10% as it passed on lower pig prices to its customers. The meat supplier's stock rose 4.3% to 2,070p as a result.
Airport and train station concessions group SSP (SSP) had a steady day, with its share price up 1.2% to 288.4p after it said business had started well in the new financial year with like-for-like growth of above 4%.
Other high fliers included Tesco (TSCO), up 3.5% to 166.7p, Morrisons (MRW), up 3.2% to 169.9p, and McColl's Retail Group (MCLS), up 2.5% to 142.8p.
Poundland (PLND), Ocado (OCDO) and Marks & Spencer (MKS) didn't fare so well.
The FTSE 100 also fell back 1% to 5,933.3 points as investors reacted to the US Federal Reserve's gloomy economic outlook.