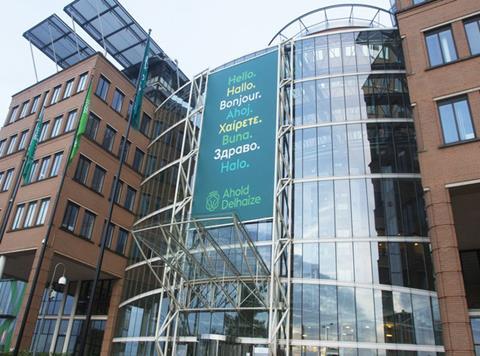 Top story
Synergies stemming from the €9.8m mega-merger have boosted margins at European food retailer Ahold Delhaize in its second quarter. The group reported a "strong" quarter of sales and profits growth.
Net sales leapt by 67.3% to €16.1bn (£14.5bn) and net income increased 68.2% to €355m (£320.7m) thanks to the combination of Ahold and Delhaize last year.
The business said the integration of the two giant European grocers was on track, with net synergies of €117m delivered in the first half of 2017. Ahold Delhaize also increased it expectations for total merger synergies to €750m, with €250m to be reinvested in its brands.
Underlying sales were up 3.4% to €16bn in the period, with underlying profits up by 11.4%, or €64m, to €626m.
CEO Dick Boer said: "We are pleased to report a strong set of results. Sales improved across the board and the group underlying operating margin increased by 30 basis points to 3.9% as merger synergy savings continued to track ahead of projections.
"A year after the merger between Ahold and Delhaize, the integration of the two companies is fully on track and delivering results as we continue to focus on strengthening our local brands through our Better Together strategy.
"We look toward the second half of the year with confidence and expect our underlying operating margin for the full year 2017 to be broadly in line with the first half of the year, with €220m net synergies for 2017."
He added: "We have a successful omni-channel strategy in place that combines a thriving network of brick-and-mortar stores with leading online businesses. We are accelerating investments in our eCommerce operations to further unlock their promising growth potential. We expect close to €3bn of online consumer sales in 2017, putting us on track to achieve nearly €5bn by 2020."
Morning update
Premier Foods (PFD) has appointed Keith Hamill as chairman to replace the outgoing David Beever. Hamill joins the board on 1 October as non-executive chairman designate and will be appointed as chairman on 9 November. Beever will step down from the board after nine years with the company and five years as chairman. Hamill currently serves as non-executive director of Easyjet and Samsonite International. He has also served as non-executive director of TP ICAP (formerly Tullett Prebon), Max Property Group and Bagir Group over the past five years.
Beever said: "It has been a privilege to have served as chairman of Premier Foods for five years and to have worked with such a talented and dedicated executive team. I wish Keith, the board, and the company every success in the future and believe Premier Foods is well positioned for future growth."
Hamill added: "I am very pleased to be joining Premier Foods as chairman of the board and look forward to working with the team to deliver value from its great portfolio of brands."
London-listed Stock Spirits Group (STCK) has increased sales and profits in the first half as the new CEO continues to stabilise the business as part of his turnaround plan. Revenues rose 3.3% to €116m (£104.8m) in the six months to 30 June 2017 at the branded spirits producer, with operating profits up 32% to €16.5m (£14.9m).
The group benefitted from a 7.3% rise in sales volumes to 5.7 million 9-litre cases in the period and a recovery in its core Polish market, where it grew the top line and profits and gained market share.
Stock had a turbulent year in 2016 with Mirek Stachowicz hired as new CEO amid a boardroom tussle between activist shareholder Western Gate Investments and the former management team.
Stachowicz said: "We are pleased to have delivered good financial and operational progress during the first half of the year. This performance is a clear sign that the business has stabilised and that the initiatives put in place in 2016 are beginning to deliver tangible results including in Poland.
"While our core markets remain competitive, we believe that our strategy of further developing our existing brand portfolio whilst continuing to invest in markets and categories with strong potential leaves us well placed to continue delivering long-term and sustainable growth. As always, I would like to thank all of Stock Spirits' employees for their hard work and commitment in helping us to deliver the plans and ambitions that we have for this business."
Separately, Stock announced CFO Lesley Jackson is to retire from the company. She will step down as director on 7 November 2017 and leave with effect from 8 August 2018. Paul Bal will replace Jackson, joining the board in November from Tupperware Brands, which is listed on the New York Stock Exchange, where he has been vice-president and CFO for Europe, Africa & Middle East since 2014. Prior to this, he held several roles within finance, general management and IT at British American Tobacco and Rothmans International in Central & Eastern Europe, South America, Scandinavia and Japan, as well as the UK, for over 15 years.
Shares in Stock have jumped 2.2% to 161.8p so far this morning on the encouraging results.
Yesterday in the City
The grocers all ended a quiet day in the red as the latest BRC-KPMG Retail Sales Monitor for July showed higher food prices boosted retail sales last month and supported weakening overall growth.
Sainsbury's (SBRY) finished 1.6% down at 246p, Ocado (OCDO) was 1.4% behind at 302.4p, Morrisons (MRW) closed down 0.5% to 249p and Tesco (TSCO) edged down 0.1% to 179.3p.
On the high street, Marks & Spencer (MKS) fared better, rising 0.9% to 331.4p, WH Smith (SMWH) increased 0.5% to 1,845p and Primark owner Associated British Foods (ABF) was also up 1.3% to 3,155p.
Beleaguered Real Good Food (RGD) leapt 7% to 23p after it revealed a management shake-up, which saw executive chairman Pieter Totte resigning from the cake decoration and bakery group. It comes after shares lost more than 30% of their value last week on a disastrous profits warning. Real Good Food also admitted Totte and the chairman of the remuneration committee Peter Salter had been paid almost £1.9m for consultancy services over the past three years that had not been disclosed properly in the annual reports or accounts for 2014, 2015 and 2016.
The FTSE 100 ended trading up – just – as it edged toward an all-time high as the pound drifted downwards. The blue-chip index rose 0.1% (or 10.79 points) to 7,542.73 points.
Fever-Tree (FEVR), McColl's (MCLS) and SSP Group (SPPG) were all among the risers, up 0.9% to 2,266.8p, 1.5% to 260p and 1% to 535p respectively.