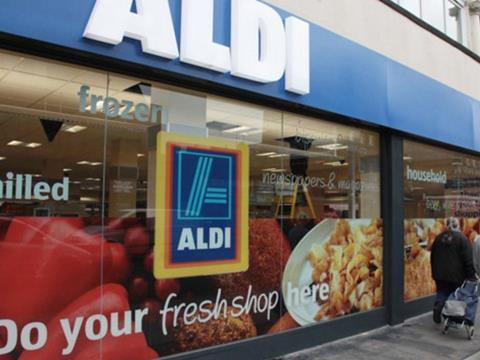 Top Story
Aldi has pledged to raise pay for its employees across the UK in a move than will put its hourly pay "significantly higher" than its British supermarket rivals.
Aldi has announced that all its UK employees will be paid at least £8.40 an hour, and £9.45 an hour in London, from 1 February 2016.
"The new rate is significantly higher than the hourly pay offered by all other British supermarkets and follows significant sustained sales growth and store expansion," Aldi said.
It pointed out that the wages include paid breaks, unlike rival Lidl which recently pledged to raise its hourly pay to £8.20.
Matthew Barnes, Aldi UK & Ireland CEO, said: "Just as Aldi won't be beaten on the low prices of our products, we are also committed to offering the best pay and benefits in the industry. The success of Aldi in the UK and Ireland has been driven by the commitment, hard work and ambition of our employees and we will continue to maintain our leading position on pay."
Aldi has also announced plans to recruit and train more than 600 apprentices over an 18-month period starting January 2016, to support its UK expansion. Aldi UK opened its 600th store on 8 October in Cardiff.
Morning update
Majestic Wine (MJW) has announced this morning it is ditching its six bottle minimum purchase rule across its store estate and online.
Majestic said its new pricing policy would make shopping "simpler and easy" for new and existing customers. The decision to remove the six bottle minimum purchase rule follows the previously announced successful trial in selected Majestic stores since Spring 2015.
Majestic will offer 10% off and up to 33% off if customers buy six or more wines and spirits, a money back guarantee and free delivery and glass hire.
Rowan Gormley, Majestic Wine PLC CEO, commented: "Our customers were telling us that they wanted simpler, clearer pricing, and an end to the six bottle minimum. This new structure is part of our wider plan to reposition Majestic Wine to become the go-to destination for the best quality wines at the best prices. There are now no barriers to shopping at Majestic, the pricing structure is very straightforward and I'm sure our customers will see this as a great move."
The FTSE has opened down 0.6% to 6,407.7pts as nervousness abounds before this week's US central bank policy meeting and the meeting of China's Communist Party central committee.
Most grocery stocks are down this morning, but the only grocery FTSE 100 faller above 1% is Marks & Spencer (MKS) which is 1.1% down to 512p.
Ocado (OCDO) is 1.3% down to 366.1p after a huge 7% jump to 370.8p on Friday after Amazon gave no indication is was preparing to launch its Amazon Fresh business in the UK market during a second-quarter conference call on Thursday night.
This week in the City
This week looks to be a quieter period for UK-based grocery and fmcg firms but there's plenty of activity internationally.
In the UK, British American Tobacco (BAT) has a trading statement for the first nine months of its financial year on Wednesday, while drinks group C&C Group (CCR) has its interim results.
Also on Wednesday, in the US Mondelez International (MDLZ) issues its third quarter earnings, as does GlaxoSmithKline (GSK), while Walgreens Boots Alliance (WBA) has fourth quarter numbers also on Tuesday. Also Australia's Woolworths issues first quarter results.
Coca-Cola Enterprises (CCE) will report its third quarter results on Thursday and fresh from its bidding battle over SABMiller (SAB), ABInBev (ABI) will report its third quarter numbers on Friday.
In economic news, tomorrow brings the UK's preliminary third quarter GDP figures. As it's the end of the month, we'll get the CBI Distributive Trades Surveys on Wednesday and GFK's Consumer Confidence figures on Thursday.