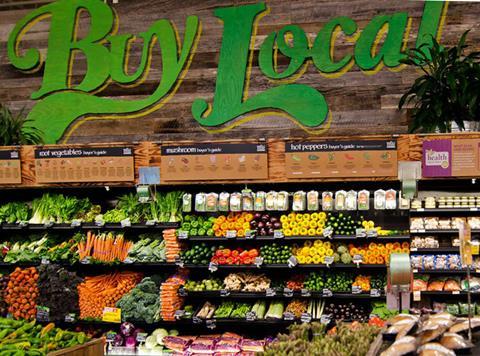 Top story
The US competition watchdog has given Amazon the green light for its $13.7bn (£10.7bn) takeover of Whole Foods.
The US Federal Trade Commission (FTC) signed off on the deal hours after Whole Foods shareholders had given their approval to the merger, eliminating two potential roadblocks to completion.
The regulator investigated the proposed acquisition to check whether it could substantially lessen competition.
"Based on our investigation we have decided not to pursue this matter further," said Bruce Hoffman, the acting director of the FTC's Bureau of Competition.
"Of course, the FTC always has the ability to investigate anticompetitive conduct should such action be warranted."
Amazon shocked the grocery industry around the world in June when it revealed it had agreed to acquire Whole Foods for $42 (£33) a share – the biggest deals in its history.
It is the latest attempt by Amazon to get a strong foothold in the food industry, with Fresh launched in the US and UK and a tie-up with Morrisons announced at the end of 2016.
Whole Foods has more than 450 branches in the US and nine in the UK, which will continue to operate under the Whole Foods brand upon completion. The organic grocer has been struggling to battle dwindling sales, with same-store sales declining for six consecutive quarters.
Morning update
Listed sandwich maker Greencore (GNC) has moved to reassure investors over its tumbling share price by insisting its US business is on track.
Shares at the group fell another 4.4% yesterday to 208p, with value now almost 20% lower than it was six months ago.
"The board of Greencore Group notes the recent weakness in its share price," a statement to the stock exchange said this morning.
"The group is not aware of any developments since the release of its third quarter trading statement on July 27 that changes the outlook contained in that statement. As outlined in that statement, the integration of our US business is on track and we continue to be encouraged by the pipeline of commercial opportunities being explored with existing and new customers."
Shares have plunged a further 5% to 197.4p since markets opened this morning.
Greencore reported soaring growth in the UK and US in the third quarter to 30 June, with revenues up 77% to £636.5m. In the US, sales rose almost 400% to £265.9m due to the $747.5m acquisition of Peacock Foods in December. However, markets have yet to be convinced about the benefits of the deal and remained worried about competition from the likes of Tyson Foods.
Greencore also warned in its half-year results earlier this year that higher raw material and wages were hitting the bottom line, with pre-tax profits falling 44% to £20.8m, with some of that come from costs from the Peacocks deal. The group is also now more exposed to currency fluctuations in the pound and the dollar.
Greencore added this morning: "The group notes there has been some level of churn in the legacy retail part of the US business. Specifically, it has decided to refocus its Jacksonville, Florida, site on fresh product offerings and will withdraw from current frozen product production on that site.
"This change is being managed seamlessly with the relevant customers and the board anticipates that the impact on profitability will be minimal."
Greencore will issue its next trading update on the release of its full year results on 28 November.
Red meat packer Hilton Food Group (HFG) has signed a long-term supply agreement with Tesco in central Europe to produce fresh food.
The five-year agreement will involve building a factory in Poland to produce items such as sandwiches, pizza, ready meals and soups.
It will cost about €6m (£5.5m) to buy plant and the equipment, as well as the construction of the factory itself for which the business is planning a sale and leaseback. It is expected that production will begin in the first quarter of 2019
Hilton and Tesco have also agreed to sign a further five-year long term supply agreement for Hilton to continue servicing Tesco's central European stores with pre-packed meat.
"We have a long and successful history of working with Tesco, one of the world's biggest retailers," Hilton CEO Robert Watson said.
"This agreement represents an opportunity to enter a growing food segment of the market. We look forward to seeing the positive effect our tried and tested business model will have on this relationship, which will be supported by our flexible and versatile approach to meeting local requirements. We continue to look for further opportunities for geographic expansion."
Tesco Central Europe CEO Matt Simister added: "I'm delighted that we are extending our deep group-wide partnership with Hilton to bring new manufacturing investment and capability to Poland. Our collective experience and expertise will bring new, innovative and high quality fresh and convenient products to our customers in Central Europe."
Hilton shares climbed 1.6% to 768.5p this morning.
Yesterday in the City
Tesco (TSCO) investors enjoyed another day of strong gains as the supermarket stock rose almost 2% to 187.8p. The news that Tesco had opened its £85m compensation scheme for investors it misled with its profits overstatement in 2014 had already been priced in by the market back in March when the process was announced. It comes on top of a 4.1% jump in the share price on Tuesday – making it the best rise on the FTSE 100 that day – following strong growth data from Kantar Worldpanel for the past 12 weeks.
Booker (BOK) continued to benefit from the positive sentiment around Tesco, which hoping to win clearance later this year for its £3.7bn takeover of the wholesaler, with shares up 1.2% to 253.1p.
Morrisons (MRW) continued to fare well, with the stock up another 1.6% to 253.1p following solid market share figures from Kantar.
Saisnbury's (SBRY) by contract only managed a tiny increase on Tuesday and fell 0.2% to 237.3p yesterday. And Ocado (OCDO) gave up Tuesday's gain, falling 1.9% to 284.5p.
McColl's (MCLS) was among the risers, up
Finsbury Food Group (FIF) managed to get its head back above water after heavy falls in the morning when it announced plans to close its Grain D'Or premium London bakery business, putting 250 jobs at risk. Shares ended trading up 0.2% to 112.7p.
Greencore was one of the heaviest fallers yesterday, down 4.4% to 208.6p, with Glanbia (GLB) down 4.6% to €16.02, Hilton Food Group (HFG) down 2.7% to 764.5p and Dairy Crest (DCG) down 0.8% to 581.5p.
The FTSE 100 was flat at 7,382.65 points despite the pound falling to its lowest level against the euro for eight years.