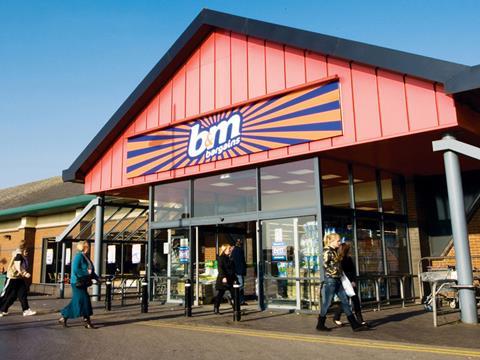 Top story
SSA Investments, the investment vehicle of the Arora family, has sold reduced its shareholding in B&M Bargains owner BME European Value Retail from 11% to 7% after placing £234m of shares last night.
After the market closed last night, B&M issued a statement saying SSA was selling approximately 40 million of its 109.9m shares in the business via an accelerated book building process.
The company said this process was complete by this morning, with the sale of 40m shares at 585p per share, representing a 4% stake in B&M and raising gross sale proceeds of £234m.
Following the settlement of the placing, the Arora family will have reduced its stake in BME European Value Retail from 11% to 7%.
Goldman Sachs International acted as sole bookrunner in connection with the placing, with Rothschild & Sons acting as the sole financial adviser to the seller.
As part of the process, SSA Investments has agreed not to sell further shares for a period of 180 days.
SSA Investments also sold 40m shares in the retailer a year ago in January 2021.
B&M itself will not receive any proceeds from the process.
B&M shares have fallen 3.4% back to 576.4p as a result of the news.
Morning update
McColl's Retail Group has announced that its chief commercial officer Richard Crampton is leaving to take up the role of director of fresh food and food services at Sainsbury's.
Accordingly, he has stepped down from the board with immediate effect, and the company has agreed to release him from his contractual notice obligation on 18 February 2022, after an orderly handover.
Karen Bird, chief operating officer, will assume responsibility for commercial alongside her existing duties. The role of CCO will not be replaced.
McColl's said Bird has extensive experience in convenience and food retail. Prior to joining she spent over 25 years with Tesco, including leading significant change programmes. She takes over a commercial team that was recently strengthened with the addition of Paul Cunningham, commercial director, who joined from Co-operative Group, and Rob George, customer director, who joined from Sainsbury's.
CEO Jonathan Miller commented: "I would like to thank Richard for the valuable contribution he has made to the business over the past two years, and to wish him every success in his future role.
"I am delighted that Karen will now be incorporating commercial into the role of COO. Karen has made a significant contribution to the business since joining in 2016 and has been instrumental in leading the Morrisons Daily rollout. With these changes I am confident that we have a strong team in place to implement our strategy, and that the rollout of Morrisons Daily will deliver long-term sustainable growth."
On the markets this morning, the FTSE 100 has opened down 0.1% at 7,555.2pts.
Early risers include SSP Group, up 2.1% to 275.3p, Nichols, up 2.1% to 1,485p and C&C Group, up 1.4% to 239.6p.
Along with B&M, fallers include McColl's, down 6% to 10.8p, Marks & Spencer, down 2.5% to 227.1p and Deliveroo, down 1.6% to 174.6p.
Yesterday in the City
The FTSE 100 edged up 0.2% yesterday to 7,563.8pts for its third consecutive day of gains.
However, Marks & Spencer was a major faller, dropping 7.9% to 233p despite posting strong Christmas trading figures as it declined to raise its profits forecast on the sales recovery.
Tesco did edge its earnings forecast upwards after posting growth over the festive period, but its shares fell due to lofty expectations heading into the update and recovered to end trading down 0.9% to 289.7p.
Other fallers included Nichols, down 3.8% to 1,455p, Pets at Home, down 2.4% to 434.4p, Bakkavor, down 2.4% to 123p, B&M European Value Retail, down 1.9% to 596.6p, Greggs, down 1.9% to 2,806p and Deliveroo, down 1.8% to 177.5p.
The day's risers included Just Eat Takeaway.com, up 8.8% to 4,067.5p, Parsley Box, up 8.1% to 33.5p, THG, up 4.6% to 193p, Domino's Pizza Group, up 2.7% to 436.8p, Imperial Brands, up 2.1% to 1,695.5p and British America Tobacco, up 1.8% to 2,975p.