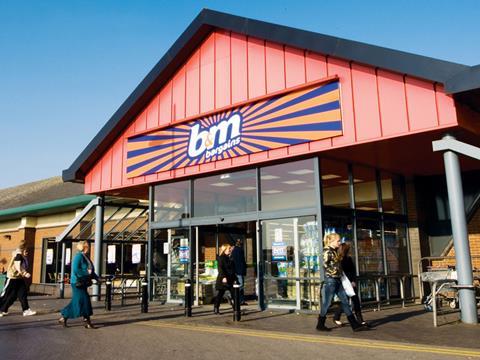 Top story
The march of the discounters continues this morning as B&M Bargains (BME) unveils strong results in the run up to Christmas, driven by a "robust" performance of its grocery and fmcg ranges.
Group revenues for the quarter increased by 22.9% to £969.8m, with UK sales for the B&M store estate in the 13-week period to 23 December jumping 12.9% to £837.3m.
Like-for-like sales in the UK were up by 3.9% in the quarter, which represented a slowdown on the third quarter a year ago when the chain recorded a 7.2% hike.
B&M said the performance in the reflected the continuation of its new store opening programme, as well as continued strong like-for-like sales growth despite the demanding prior year third quarter comparative.
The discounter added the "strong" like-for-like performance reflected the continued robust performance of the grocery and fmcg ranges, further operational improvements to store standards for customers and the recognition of its value offer by consumers generally.
Frozen food discounter Heron, which B&M acquired last year, contributed £79.8m of revenues in the quarter, including strong positive like-for-like revenue growth with the business benefitting from selective extension to product ranges while retaining its limited assortment SKU discipline.
Jawoll's sales revenue increased by 8.2% on a euro basis, which equates to an increase of 10.4% in sterling to £52.7m in the quarter versus the same period in the financial year 2016/17. This reflected a stronger trading performance than in the first half of the financial year, with the Christmas range, sourced through the group's far-eastern supply chain, performing particularly well.
"B&M continues to go from strength to strength," CEO Simon Arora said. "Despite the demanding comparatives from the very strong Christmas in 2016, our buying, supply chain and retail teams achieved another outstanding performance this year by doing what we do best, which is delivering great value for customers week-in, week-out.
"With Heron also performing well and Jawoll having a solid quarter, I'm delighted with our progress and on behalf of the board I would like to thank all of our colleagues for their hard work and commitment."
B&M ended the quarter with 569 B&M stores, having opened 19 in the past 13 weeks and a net 32 in total during the financial year to date, and 263 Heron stores, with 4 new store openings in the quarter. In Germany, Jawoll was trading from 84 stores following two openings in the quarter.
Shares leapt 3% to 408.8p as markets reacted positively to the latest strong growth at the group.
Morning update
Conviviality (CVR) has announced that Mark Aylwin is stepping down as head of the drinks group wholesale arm at the end of the month after completing the complex task of integrating Matthew Clark and Bibendum following the two game-changing acquisitions.
The former Booker director has been an integral part to CEO Diana Hunter's ambitious plan to build a drinks giant serving all areas of the market.
Conviviality said Aylwin had fulfilled his objective and enabled the group to bring all its sales and marketing channels together under commercial and marketing. He will step down from the board and leave the role on 31 January.
Hunter said: "We are very grateful for Mark Aylwin's contribution to the business over the past two years, delivering strong growth during a period of major change and successfully integrating Matthew Clark and Bibendum into Conviviality Direct. He leaves with the board's sincere thanks and best wishes."
The move comes as Conviviality reveals a series of organisational changes at the group.
It is reshaping the leadership team to deliver against core business competencies of: franchising and wholesaling and the buying, selling and distribution of alcohol to customers meeting the needs of consumers wishing to either purchase drinks for consumption in the home or out of the home.
The organisational structure in place and effective from today includes:
Bringing together all of its drinks buying teams under the leadership of Steve Jebson, who joined the business in November 2015 and has delivered the buying synergies from the Matthew Clark and Bibendum integration
Bringing together all of the selling and marketing functions within Conviviality Direct and Conviviality Trading under former Carlsberg UK boss James Lousada, who joined the business in June 2016 and now takes up a new role of commercial director
Mark Riley, who was MD of Bibendum and joined Conviviality when the group acquired the wine wholesaler in 2016, is now operations director, responsible for covering the Bristol customer contact centre, Bristol supply chain teams and the entire Conviviality logistics operation including the relationship with third party provider Trade Team
Hunter added: "I am delighted to announce this revised operational change to Conviviality which does not only mirror our operating model but also enable us to lower the centre of gravity of the organisation, bringing decision making closer to the customer. As the market continues to be full of opportunities and challenges, we now have the best platform from which to gain benefit."
Shares in Conviviality are up 0.5% to 381p this morning.
The M&S share price recovered some of yesterday's heavy losses (see below) this morning, climbing 1.5% to 305.8p, but the three listed supermarkets are all down again. Morrisons has slipped a further 0.4%, Tesco is down 0.3% and Sainsbury's is back 0.2%.
Online grocer Ocado (OCDO), which reports its latest figures next week, is up 2% to 418p this morning.
Yesterday in the City
Tesco (TSCO) was one of the biggest fallers on the FTSE 100 yesterday despite revealing a record Christmas with 3.4% growth in like-for-like food sales. The stock plunged 4.5% to 202.3p as the supermarket disappointed the City by reporting that the shine had been taken off its numbers by sluggish general merchandise sales and the collapse of tobacco wholesaler Palmer & Harvey.
Booker (BOK), whose fortunes are tied to Tesco as a result of the £3.7bn merger, also fell 3.9% to 223.8p despite it revealed another strong quarter.
However, the large decline in its share price was outdone by Marks & Spencer (MKS), which collapsed 7% to 301.2p as it revealed itself to be the turkey of the festive period. Like-for-like food sales fell 0.4% as ongoing trading pressures continued to hurt the business as consumer tightened their purse strings. M&S shares had rose earlier this week as investors bet that reports of a poor Christmas had been overblown.
Sainsbury's (SBRY) came back down after strong rises this week, falling 2.1% to 248.6p, with Morrisons (MRW) completing a miserable day for the sector, down 1.4% to 226.2p.
The FTSE 100 managed to keep its head above water despite the losses for its grocery constituents. The index climbed 0.2% to 7,762.94 points thanks to gains for mining and energy stocks, which were buoyed by strong metal and oil prices.
B&M European Value Retail slipped 0.2% to 396.9p ahead of this morning's update.
Risers yesterday included tobacco giants British American Tobacco (BAT) and Imperial Brands (IMB), up 1.7% to 5,050p and 1.4% to 3,176.5p respectively. Dairy Crest (DCG) and PZ Cussons (PZC) also rose 1.2% to 590.5p and 0.9% to 325.8p.