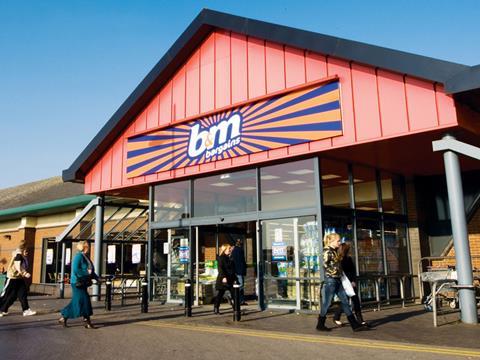 Top story
B&M European Value Retail (BME) has increased group revenues by almost 26% to £930.3m thanks to the rapid growth of its store network, with a record 47 new shops opened in just 26 weeks.
However, like-for-like sales were up just 1.2% in the first half as the new stores led to 1.3% of cannibalisation, the discount chain said. The retailer also warned that growing at such a fast rate brought its own "operational challenges".
The group is on track to open 80 net new stores this financial year to take its estate to past 600 – and to 552 in the UK.
B&M's adjusted EBITDA rose 18.6% in the period to £86.6m and adjusted pre-tax profits increased by 25.4% to £66.4m on the back of the bumper sales growth.
CEO Simon Arora said: "Our unique retail model continues to deliver strong revenue growth as we extend our geographic footprint. In the UK, our teams have opened 47 new stores in just 26 weeks - a record rate of openings for B&M.
"The business is growing at an annualised rate of over £400m per year, which brings its own operational challenges. However, the investment made in our supply chain infrastructure and in other core functions will support the next stage of our expansion."
Chairman Sir Terry Leahy added: "B&M has made good progress in the first half of the financial year towards its strategic goals of reaching at least 850 UK stores and creating a platform for longer term growth in Germany, whilst delivering further pleasing growth in sales, profits and cash generation. We are well prepared for the rest of the year and beyond."
Morning update
Kantar Worldpanel and Nielsen are now releasing their UK grocery market data at the same time each month.
Aldi and Lidl have reached a combined share of 10% of the British grocery market for the first time in the 12 weeks to 8 November, the latest Kantar figures revealed. Sainsbury's (SBRY) also registered the first share gain among any of the 'big four' retailers since October 2014, with its market share increasing by 0.2 percentage points to 16.6%. Fraser McKevitt, head of retail and consumer insight at Kantar Worldpanel, said: "If you look back as recently as 2012 Aldi and Lidl only held a 5% share of the market, and it had previously taken them nine years to double their combined share from 2.5%. In the last 12 weeks the two retailers have attracted another additional million shoppers compared with last year while average spend per trip has increased by 4% to £18.85, which is 78p ahead of the total retailer average. The discounters show no sign of stopping and with plans to open hundreds of stores between them, they'll noticeably widen their reach to the British population."
Nielsen's releases shows that Tesco (TSCO), Asda and Morrisons (MRW) have been hit the hardest by the rise of the discounters. Aldi and Lidl's growth has contributed to the biggest year-on-year fall in the value of supermarket sales for more than a year, Nielsen said. During the four weeks ending 7 November 2015, sales value at the tills dropped -1.2% versus the same period a year ago.
Full stories to follow at thegrocer.co.uk.
Yesterday in the City
Majestic Wine (MJW) endured a tough morning with shares falling more than 5% to a record low for the wine retailer after CEO Rowan Gormley warned his new turnaround plan would hit profits in the short term. The scrapping of an interim dividend also did nothing to comfort the City. However, once the business' half-year figures – with sales in all four divisions climbing – were looked at in more depth the shares rose strongly to end 4.7% higher than Friday's close at 322.6p.