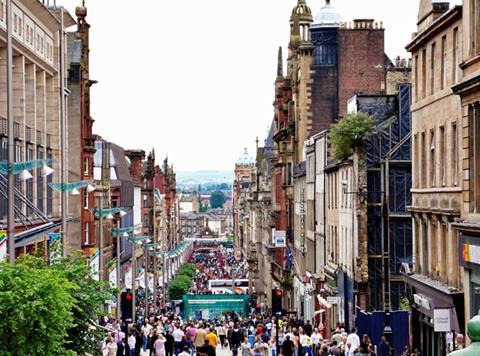 Top story
Retail footfall fell 1% during November despite the Black Friday sales event, with high street footfall dropping for its third consecutive month, according to the BRC- Springboard Footfall & Vacancies Monitor
The overall footfall decline of 1% in the four weeks to 26 November represents a deepening of the 0.9% fall in October and is below the three-month average rate of decline of 0.8%.
High street numbers were down by 0.7%, down from a 0.4% decline in October and behind the three-month average of -0.5%. However, high street footfall was 3.4% down in November 2015.
Retail parks saw footfall edge down 0.1% after 1.1% growth in November, while shopping centres were down for the tenth consecutive month, with footfall falling 2.3% after a 2.2% in October.
British Retail Consortium chief executive Helen Dickinson commented: ""As we saw in the sales data, Black Friday did little to impact the overall monthly trend in footfall. Whilst the event clearly attracted shoppers to stores, it was retailers' online offerings who were the real winner, with shoppers for non-food items spending more than one in four pounds online, setting a new record for online share.
"It's clear that the browser is rapidly replacing the high street as the venue of choice to hunt down a bargain. With that trend set to continue, the role of physical stores - still an enormously important part of retail - is shifting and retailers are having to re-engineer and reinvent their real estate to work seamlessly with their digital presence."
Diane Wehrle, marketing and Insights Director at Springboard added: "Black Friday is the key trading feature of November; not only was it the busiest trading day of the month but footfall rose by 2% from Black Friday last year.
"Online purchases rose by 6.7% versus a forecast increase of 25%, demonstrating that whilst consumers shopped and researched discounts online, they also visited bricks and mortar stores."
Morning update
Magners producer C&C Group (CCR) has signed an expanded distribution partnership with global brewing giant AB InBev UK (ABI).
Under the new agreement, AB InBev will be responsible for the sale and trade marketing of C&C's cider portfolio (including Magners, Chaplin & Corks and Blackthorn) in England, Wales, the Channel Islands and the Isle of Man, including on and off-trade national accounts.
The existing brewing arrangements with AB InBev have been renewed and extended, under which C&C will continue brewing, kegging, bottling and canning certain AB InBev products, including Stella Artois at C&C's Wellpark Brewery in Glasgow.
C&C will also continue to distribute AB InBev's beer portfolio (including Becks, Stella Artois, Budweiser and Corona) in Ireland, Northern Ireland and Scotland have also been amended and reconfirmed.
C&C Group said the agreement has seen no consideration payable by either party and the new arrangements are based on are long term, multi-year contracts.
The new agreements are expected to be earnings neutral for C&C Group in the first full year of operation and will contribute to the bottom line after that date driven by increased volumes and value, particularly in cider in England, Wales, the Channel Islands and the Isle of Man.
Stephen Glancey, CEO of C&C Group, said: "The agreements leverage the manufacturing, distribution and portfolio strengths of our two businesses in our core markets in the UK and Ireland.
"We are excited by the increased opportunities from combining Magners and our other cider brands with AB InBev's leading portfolio of beers, marketing expertise and distribution capability; particularly in England, Wales, the Channel Islands and the Isle of Man and amongst national accounts.
"We have been manufacturing and distributing AB InBev's beer brand portfolio in our core territories of Scotland and Ireland since the acquisition of the Tennent's business from AB InBev in 2009. Today's renewal of these agreements is testament to the strength of our distribution networks across Ireland and Scotland and our leading positions and brands in these territories; and underscores the quality and efficiency of our manufacturing facilities".
Jason Warner, President, AB InBev UK & Ireland, added: "AB InBev has had a close, strategic partnership with C&C since 2009 and we are very happy to announce today that we're strengthening our business ties. This partnership will provide our customers in both the on and off-trade with a renowned, complementary portfolio including Budweiser, Corona, Stella Artois, Goose, Camden, Magners, Chaplin & Cork's, Blackthorn and K from AB InBev."
On the markets this morning the FTSE 100 opened by edging up 0.1% to 6,958.1pts.
C&C Group is 1.3% up to €3.60 this morning after news of its AB InBev tie-up.
Stronger risers include Marks & Spencer (MKS), up 4% to 352.2p, Hotel Chocolat (HOTC), up 3.3% to 273p, PureCircle (PURE) up 3.1% to 242.2p and McBride (MCB), up 2% to 175.4p.
Early fallers include Crawshaw Group (CRAW), down 6.2% to 21.1p, Science in Sport (SIS), down 1.6% to 74.3p and SSP Group (SSPG), down 1.1% to 378.6p.
This week in the City
The City is in full wind-down mode ahead of the holiday season, with very little in the calendar this week.
The only grocery/fmcg company news of note scheduled this week is a trading update from PZ Cussons (PZC) on Thursday.
The main grocery news this week is likely to be the Kantar/Nielsen market share figures our tomorrow morning.
There are a couple more items in the diary for the wider retail sector, with Carpetright (CPR) posting its interim results tomorrow morning and Dixons Carphone (DC.) with its half year results on Wednesday.
In terms of economic announcements, tomorrow brings the official inflation figures for November as the Consumer Price Index and Retail Price Index are released at 9.30am.
The ONS' retail sales figures are out on Thursday, while the Bank of England's latest interest rate decision (universally tipped to remain at 0.25%) is also on Thursday.
Friday sees the release of the CBI Industrial Trends Surveys for the month.