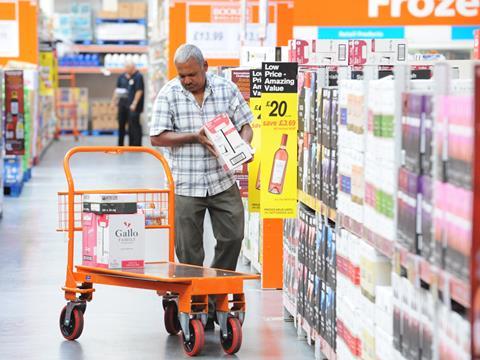 Top story
Booker (BOK) has reported a 9% rise in full year pre-tax profits despite a fall in like-for-like sales after making "good progress" with the integration of Budgens and Londis.
Overall Group revenue increased by 5.0% to £5bn, with Booker like-for-like total sales down by 1.9%. Non-tobacco like for like sales were down by 0.3% and like-for-like tobacco dropping by 5.2%.
Operating profit (before exceptional items) was up 11% to £155.1m, with pre-tax profit rising 9% to £150.8m
During the year Booker took an exceptional charge of £2.3m relating to fees incurred in the acquisition of Budgens and Londis (£2.3m charge), restructuring costs (£4m charge) and adjustments to other provisions (£4m credit).
Booker said the group's trading in the first seven weeks of the current financial year is ahead of last year.
However, it added: "We anticipate that the challenging consumer and market environment will persist through the coming year and the UK's food market remains very competitive.
"Whilst there is increasing price competition in the UK grocery and discount sectors, we will continue to deliver our plans to offer our customers even better choice, prices and service supported by the continued delivery of our efficiency programmes."
Charles Wilson, chief executive of Booker, said: "Our plan to Focus, Drive and Broaden the business remains on track. Booker Group had a good year; customer satisfaction was strong, sales and profits were the best we have ever achieved. We made good progress on the integration of Budgens and Londis. We are very grateful for the support of our customers, suppliers and people and look forward to making progress in the year ahead."
Morning update
A busy morning sees a host of trading updates in the grocery and fmcg sector, with Asda also set to release its first quarter sales later this morning.
Firstly, Dairy Crest (DCG) has issued its first annual results since selling its dairies business to Müller UK & Ireland in December 2015.
Dairy Crest said it "continued to make progress in difficult trading conditions" after posting a 5.8% drop in continuing operations revenues to £422.3m. Overall Group product group profit (before interest, acquired intangible amortisation and exceptional items) fell by £0.9m to £66m, although this represents an improved margin of 15.6% from 14.9% last year.
However, the very difficult conditions in the liquid milk market persisted throughout 2015 and its discontinued Dairies business made pre-exceptional operating losses of £33.3m in the nine months before its sale having made a £1.8m profit in the last financial year.
Chief exec Mark Allen said: "This is an exciting time to be leading Dairy Crest. Although we expect food price deflation to persist in the short term, the business is well positioned to deliver profitable and sustainable growth.
"We are making progress with all of our four key brands and the continued investment we are putting behind them this year gives me confidence that we can continue to grow their market share. The other focus for 2016/17 will be on accelerating sales of demineralised whey and GOS, the new infant formula ingredients and continuing to explore further applications for GOS. Future cash generation will improve as the sale of our Dairies business and completion of the investment at Davidstow removes a significant drain on cash"
Britvic (BVIC) has issued its financial results for the 28 weeks ended 10 April 2016. During the period the group sold 1.17 billion litres of soft drinks, an increase of 9.8% on the previous year and group revenue was £678m, an increase of 5.1%. Excluding the first time contribution of Brazil, volumes increased 0.2% and revenue declined by 1.8% to £633.9m.
Group adjusted EBITA grew by 7.1% to £69m, with EBITA margin increasing by 20bps to 10.2%. The contribution from Brazil at the half year includes their key summer trading period. Organic EBITA excluding the impact of Brazil grew 3.1%.
CEO Simon Litherland commented: "We have reported a 7.1% increase in EBITA in the first half of the year despite the challenging customer environment and continued price deflation in our core markets. We have outperformed the soft drinks category in each of our core markets, gaining market share as a result. Our recent acquisition in Brazil is growing ahead of last year and Fruit Shoot multi-pack is being launched in the USA.
"We continue to invest behind the longer term drivers of growth - supply chain efficiency in GB, innovation and our international businesses - and I remain excited about our ability to drive sustainable revenue growth in the years ahead. With the key summer trading period ahead of us, strong marketing plans for the rest of the year and continued cost control, we remain on-track to deliver EBITA in the range of £180m to £190m for the full year."
Fever-Tree (FEVR) has issued a trading update for the four months to the end of April 2016 and once again upgraded its full year earnings forecast.
It said the momentum seen in 2015 has continued into the start of 2016. Fever-Tree has "outperformed expectations" in the first four months of the year as the premium mixed drink movement continues to grow. This strong performance, alongside a currently favourable foreign exchange environment, has also driven gross margin improvements.
Fever-Tree said: "Given the strong sales in the period to date, the board anticipates that the results for the full year ending 31 December 2016 will be materially ahead of market expectations."
Finally, English wine producer Gusbourne saw sales for the year increase by 9% to £473k despite being constrained by limited stock availability. Its loss before tax grew to £1.4m from £1.15m last year after net finance costs of £303k, which is "in line with expectations and the long-term development strategy of the group".
Chief executive Ben Walgrave said: "I am pleased to report that 2015 has been a year of continued and very pleasing progress for the group in line with our long term strategic development plans.
"We have planted new vineyards and extended our winemaking facilities. Year on year sales have increased and we have widened our distribution channels. We have continued to invest in the Gusbourne brand and in October 2015 launched an update to our visual identity marking a new chapter in the Gusbourne story and reflecting the rapid progress of the business."
"The Gusbourne sparkling wine products remain at the luxury end of the English sparkling wines market and we remain committed to maintaining this premium position."
In the City this morning, the FTSE 100 has opened 1.1% down to 6,099.4pts on returning rumours of an imminent US rate hike.
Fever-Tree has leapt 11.3% to 666p on its latest earnings upgrade this morning. Booker is up 0.5% to 175.7p after its annual results.
Dairy Crest is down 1.4% to 574p and Britvic is down 0.9% to 696.5p.
Elsewhere, McColl's is up 5.1% to 164p and SSP Group (SSPG) is up another 0.9% to 312.8p.
Fallers include Greencore (GNC), down 2.2% to 360p, Unilever (ULVR), down 1.6% to 3,042p, Cranswick (CWK), down 1.5% to 2,309.8p and Ocado (OCDO), down 1.3% to 262p.
Yesterday in the City
Booker was one of the markets major risers yesterday ahead of its annual results, climbing 6.1% to 174.9p and regaining the ground the shares had lost since the beginning of April.
SSP Group (SSPG) was 3.3% to up 310p after first half like-for-like sales grew 3.3% to £897m – 4.4% higher than a year ago overall.
SABMiller's (SAB) shares were unchanged at 4,213.5p after its annual results, which saw the brewer record a 16% in pre-tax profits to $4.1bn, though constant currency EBITA rose 8% to $5.8bn.
Other notable movers included Marks & Spencer (MKS), up 2.9% to 442.1p and PZ Cussons (PZC), up 1.3% to 327p.
Fallers included Britvic (BVIC), down 1.4% to 703p, Greencore (GNC), down 3.9% to 368p and troubled Stock Spirits, down 3% to 160p.
Premier Foods (PFD) edged down another 1.3% to 37.5p despite building sales momentum in the fourth quarter.
The FTSE 100 ended the day flat at 6,167.8pts.