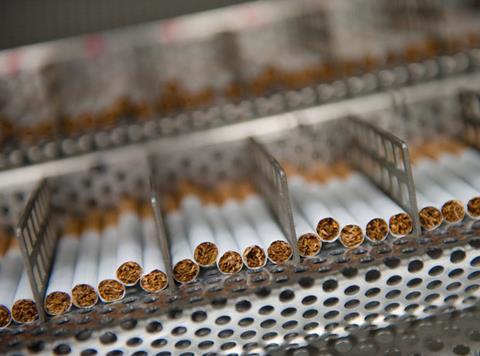 Top story
British American Tobacco (BATS) has reported "an exceptionally good performance" in 2016 as it grew revenues, underlying profits and outperformed the industry on tobacco volumes.
Total revenues were up 12.6% to £14.8bn during the year, a rise of 6.9% at constant currency rates and up 5.3% on an organic basis.
Group cigarette volume grew 0.2% to 665 billion, which represents a 0.8% decline on an but is above the general industry decline of 3%. Total tobacco volume was 0.1% higher than 2015.
Tobacco volumes were down in the Americas (113 billion against 124 billion in 2015) where its acqusition of Reynolds America will boost sales when it goes through. The deal is expected to close in the third quarter of 2017, subject to obtaining the relevant approvals.
Volumes were up in Western Europe (120bn from 112bn) and EEMEA (236bn from 229bn)
BAT said its market share in its key markets continued to grow, up 50 basis points year-on-year.
Adjusted group profit from operations increased 9.8% at current rates, or by 4.1% at constant rates of exchange. Profit from operations, at current rates of exchange, was 2.2% higher at £4.7bn.
Without the adverse transactional impact of foreign exchange and the impact from acquisitions, operating margin would have improved by around 160 bps. On a reported basis, it fell 90 bps to 37.2%.
BAT's vapour business also grew to become the world's largest, outside of the US.
Richard Burrows, chairman, commented: "The group delivered exceptional earnings, volume and market share growth in 2016, despite challenging trading conditions persisting in many of our key markets.
"Our results this year demonstrate our ability to continue delivering excellent shareholder returns while investing in the future strength of the business. The 10% increase in our total dividend for 2016 to 169.4p reflects our confidence in our strategy, our people and in generating growth for our shareholders in 2017 and beyond."
BAT shares have edged up 0.2% to 5,012p so far this morning.
Morning update
German consumer products group Henkel (HEN) has also reported what it called a "strong performance" in 2016 with sales and earnings at record levels.
Sales were up 3.5% to €18.7bn, which represented a 3.1% increase on an organic basis and was boosted by 6.8% organic sales growth in emerging markets.
Operating profit was up 8.5% to €3.2bn, while EBIT margin improved by 70bp to 16.9%.
Henkel CEO Hans Van Bylen said: "2016 was a very successful year for Henkel. In a challenging market environment, we achieved again new record levels for sales and earnings and met our financial targets for the fiscal year. We delivered a high quality of earnings. For the first time we reached an adjusted operating profit of more than 3 billion euros."
"In September, we closed the acquisition of Sun Products, which was the second-largest transaction in our company's history. This marks a major step for Henkel and substantially strengthens our Laundry & Home Care business in North America."
Looking at the current fiscal year 2017, Hans Van Bylen said he expected "the highly volatile and uncertain market environment" to continue.
However, he added: "Based on our clear strategic direction, our strong global team and our innovative brands and technologies with leading market positions, we are well-positioned for further profitable growth."
For the full fiscal year 2017, Henkel expects organic sales growth of 2% to 4% and its adjusted EBIT margin to increase to more than 17% percent.
Henkel shares are down 0.8% to €103.70 this morning.
On the markets this morning, the FTSE 100 is 0.1% down 7,295.1pts.
Early movers include C&C Group (CCR), up 1.4% to €3.96, Hotel Chocolat (HOTC), up 1.1% to 269.9p and Science in Sport (SIS), up 1% to 96p.
Fallers include Real Good Food (RGD), down 4.2% to 31.1p, Glanbia (GLB) down 2.9% to €18.08, Tesco (TSCO) down 1% to 191.6p and Premier Foods (PFD), down 1% to 38.9p.
Yesterday in the City
Unilever (ULVR) jumped 5.7% yesterday back up to 3,791p after it announced it was seeking ways to return value to shareholders and promised earnings growth would be at the upper end of its 40-80bp guidance.
It said its "comprehensive review of options available to accelerate delivery of value for the benefit of our shareholders" would be complete by early April.
Unilever shares are currently 12.8% higher than their close on Thursday before the Kraft Heinz approach became public.
Elsewhere, the FTSE 100 was back up 0.4% to 7,302.3pts yesterday.
Other consumer goods groups were boosted by the industry's growing focus on the bottom line, with Reckitt Benckiser (RB) up 2.2% to 7,229p and Associated British Foods (ABF) up 1.3% to 2,618p.
Hotel Chocolat (HOTC) was up 4.6% to 267p after reporting strong growth in first-half sales and profits thanks to new store openings and strong Christmas trading.
Glanbia (GLB) jumped 7.3% to €18.61 after the announcement it is selling off 60% of its dairy business to the Glanbia Co-operative Society.
Other risers included Morrisons (MRW), up 1.1% to 247.9p, Tesco (TSCO), up 1.1% to 193.4p and Marks & Spencer (MKS), up 0.9% to 326.8p.
Fallers included Premier Foods (PFD), down 2.5% to 39.25p, Coca-Cola HBC (CCH), down 1.5% to 1,950p, Hilton Food Group (HFG), down 1.5% to 646.5p and Dairy Crest (DCG), down 1.3% to 567p.